Gatchalian, C.E.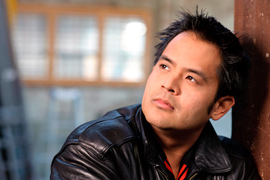 C. E. Gatchalian
Filipino-Canadian playwright C.E. (Chris) Gatchalian was born in Vancouver in 1974. He is an alumnus of the University of British Columbia's Creative Writing program (BFA, 1996; MFA, 2002).
His first play, Motifs & Repetitions, premiered at UBC's Brave New Play Rites Festival in 1995 and was subsequently made into a film which aired on Canada's Bravo! channel in 1997 and on the Knowledge Network in 1998. It was published in the one-act collection, Motifs & Repetitions & Other Plays (Cranston, Rhode Island: Midpoint Trade Books, 2003), which was named a finalist for the Lambda Literary Award, honouring the best in gay, lesbian, bisexual and transgendered literature in English.
Claire was produced at Blinding Light!! Theatre in Vancouver in 1999; and Crossing at the New Play Festival, Playwrights Theatre Centre Vancouver in 2004. Hands was produced at Buddies in Bad Times Theatre as part of Brown Blues, Toronto, September 2004. Broken, a fusion of thematically linked one-act plays, was produced at the Firehall Arts Centre in March 2006 and was published by New Bard Press (Edmonton) in Fall 2006.
Falling in Time opened at Playwrights Theatre Centre in 2011. It engages four characters with radically diverse backgrounds and perspectives: an embittered Korean War vet, an unfeeling ESL teacher, a Korean ESL student who is radically anti-Western, and a Korean woman attempting to survive against all odds. It was published by Scirocco Drama/J Gordon Shillingford in 2012 and was a finalist for the Lambda Literary Award.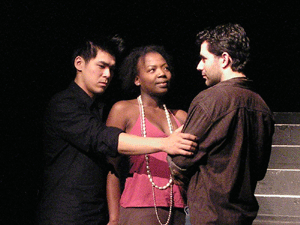 A production photo from C. E. Gatchalian's Broken 2006.
Photo by Melissa C. Powell
Recent work includes his play for young audiences, People Like Vince, which was commissioned by Green Thumb Theatre for Young People and toured BC, Saskatchewan and Ontario in 2011 and 2012.
He is the 2013 recipient of the prestigious Dayne Ogilvie Prize, awarded annually by The Writers' Trust of Canada to an LGBT writer of merit. He is currently Artistic Producer of the frank theatre company and an Adjunct Professor at the University of British Columbia.
Critic Colin Thomas of the Georgia Straight called Crossing "disturbing...unapologetically naked." Peter Birnie of the Vancouver Sun wrote, "C. E. Gatchalian's ambitions lie far beyond those of ordinary playwrights penning nice narratives. Crossing is far from nice and Gatchalian is far from ordinary." Gatchalian's plays deal with issues ranging from abuse, obsession and sexual identity, written from a queer perspective and in a style that is lyrical, poetic and non-realistic.
Gatchalian was playwright-in-residence at the Firehall Arts Centre and Vancouver Playhouse. He is also a published poet and fictionist.
Website: www.cegatchalian.com
Source: Christopher MacDonald
Last updated 2018-01-22