Glassman, Steven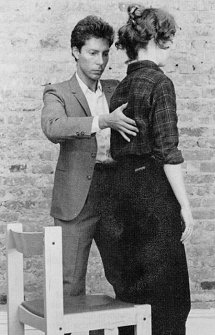 Steven Glassman
Movement coach and Tai Chi instructor specializing in the Alexander Technique, born in New York City, September 15, 1951. Steven Glassman studied at the State University of Buffalo, at the Patrick Macdonald School of Alexander Technique in London, England, and at the American Centre for Alexander Technique in New York.
Since 1986 he has been the coordinator of the movement program at the National Theatre School of Canada, and since 1992 a coach at the Shaw Festival. He has also served as teacher, coach or workshop facilitator at the Scotia Festival of Music, Stratford Festival, and Les ateliers de danse moderne among others.
He has lectured and held workshops around the world at music schools, theatre institutions and for organizations as diverse as the Amber Stables in Hudson, Quebec, and the Halpern School of Ballet in Sydney, Australia.
The Alexander Technique is a posture-re-education method developed by Frederick Mathias Alexander a century ago and now widely used in Canada and other countries to aid actors, musicians and dancers. Steven Glassman believes that the mind and the body are one: a personal spirituality cannot be divorced from the craft of the actor because personal decisions affect the work of an actor. A spiritual journey is a training journey: "Self awareness is at the heart of almost any spiritual discipline and it is also at the heart of acting because you can't really develop the quality of listening, whether it is to your own intuition or to, on a physical level, another actor onstage or your audience ... if there isn't a sense of being connected to yourself and a sense of being centred. I would say that at the National Theatre School the first year is very much geared to exploration, opening up, taking risks ... and self-awareness is the alpha and omega of it all." (quoted from James Forsythe: http://ecclectica.brandonu.ca/issues/2009/1/drama/spirituality/).
Last updated 2021-01-07