Kaasa, Walter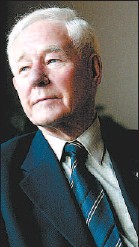 Walter Kaasa
Actor, teacher, bureaucrat, born July 25, 1925 in Cabri, Saskatchewan, died July 10, 2008 in Edmonton Alberta. He attended Normal School in Edmonton, and taught in small towns in Alberta before teaching drama at Victoria Composite High School in Edmonton. His school production of The Bluebird traveled to Calgary for the Dominion Drama Festival.
From 1953-54 he attended the Central School of Speech and Drama in London. In 1956 he assumed the position of Coordinator of Cultural Activities for the Alberta government, and traveled widely in the province helping communities to develop cultural programs and activities. He was appointed Assistant Deputy Minister of Culture from 1973 to 1982. He then founded a speech academy, giving elocution lessons to business and government leaders, radio hosts, and children.
Kaasa was a passionate advocate of the arts in Alberta, and acted in more than 50 roles in community and university theatre productions, including Hamlet, Willy Loman, and Sir Thomas More in A Man for All Seasons — which he indeed was. In 1983 he gave a memorable performance as Lady Bracknell for Northern Light Theatre to celebrate the opening of the Kaasa Theatre.
He helped in the planning for the construction of both the Northern and Southern Jubilee Auditoria in Edmonton and Calgary, and in 1957 the intimate theatre space in the basement of the Northern Jubilee Auditorium was named after him. Before its demolition during renovations of the Jubilee in 2005, it housed productions by the Phoenix Theatre and Workshop West Theatre.
He was named to the Edmonton Cultural Hall of Fame in 1989, and received an Honorary Doctorate of Literature from the University of Alberta in 1993, and the Order of Canada in 1996.
Source: Frank Glenfield. "Walter Kaasa," Theatre 100: Celebrating 100 Theatre Practitioners Over 100 Years. Ed. Shari Wattling. Alberta Playwrights' Network, 2006.
Last updated 2021-02-16