Glenfield, Frank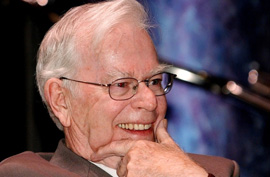 Frank Glenfield
Director, actor, instigator and champion of Alberta professional and community theatre for more than sixty years. He was born in 1924 in Calgary, died in December 2011 in Edmonton. While attending Western Canada High School in Calgary, he performed in Thornton Wilder's Our Town, directed by Betty Mitchell, and was one of the founders of Workshop 14. In 1949 Glenfield organized the first western Dominion Drama Festival in Calgary, and became a member of the board of the Alberta Drama League.
In 1951 he assumed the position of business manager of the Studio Theatre at the University of Alberta, where he worked with Elizabeth Sterling Haynes and Robert Orchard. His most significant contribution to Edmonton theatre has been through his long association with Walterdale Theatre, as actor, director, and board member since its founding in 1958. From 1983 to 1990, he was administrative director of Northern Light Theatre, and helped to establish the Edmonton Arts Council.
His many directing credits include: Rex Deverell's Boiler Room Suite; Joanna Glass's Artichoke; and Tony Cushman's history plays, such as Sir Wilfred Laurier Plays Edmonton (2005) and Emily and Victoria (2011).
He has acted in Gordon Pengilly's Swipe (1981) and Ted Galay's After Baba's Funeral, among many other plays.
In 1989 he was named to the Edmonton Cultural Hall of Fame, and received an Alberta Achievement Award in 1991. With his wife, Mary Glenfield (d. Sept 18, 2015), he received the Jack Wilson Award (1993) and the Elizabeth Sterling Haynes Award for Lifetime Achievement (1995).
Source: James DeFelice. "Frank Glenfield," Theatre 100: Celebrating 100 Theatre Practitioners Over 100 Years. Ed. Shari Wattling. Alberta Playwrights' Network, 2006.
Last updated 2019-10-09