Labrador Creative Arts Festival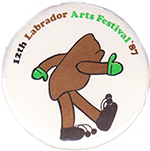 Canada's longest-running annual student arts festival held in November in Goose Bay, Newfoundland and Labrador, founded in 1974 by Tim Borlase and Noreen Heighton. It began with about ninety participants, and now there are over 5,000 students involved in the events. Borlase has been involved as co-ordinator or co-chair in nearly every festival since its inception.
The Labrador Creative Arts Festival is a combination of workshops, plays, storytelling, exhibitions, and networking; its original focus was on theatre -- writing, rehearsing, and enacting plays, and it has expanded every year to include a wide range of music, dance, painting, sculpture, puppetry, and cooking.
Visiting artists have included playwrights Len Peterson (1981), Henry Beissel (1982), director Ken Gass (1983), playwrights Carol Bolt (1990), Colleen Curran (1994), Rex Deverell (1996), Drew Hayden Taylor (1997), and Robert Chafe (2008). In 2003, Glenn Tilley, CBC radio producer, spent a week with students to produce a radio play written by a local student. The play was broadcast on CBC Weekend AM.
A book of plays typical of the festival, Who Asked Us Anyway?, was published by the Labrador School Board in 1998 and edited by Carol Bolt. In 2020, the Festival published Asiangutitsijuk Takunnausigijannik: Changing Your Perspective, an anthology of play scripts from early years of the Festival to the present. The collection features scripts from the five communities of Nunatsiavut (Labrador), selected to show the changing sense of being an Inuk. The IkKaumajammik Project is a collection of plays created from memories of life in Nunatsiavut, many by former participants of the Festival.
Website: www.labradorcreativeartsfestival.ca.
Last updated 2021-02-26