Leacock, Stephen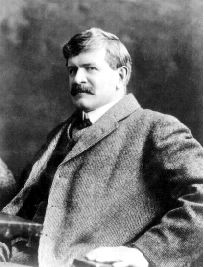 Stephen Leacock
Writer born in Swanmore, England in 1869, died in Toronto, Ontario, in 1944. He is notable not only for his comic and satirical stories, but for the effect he had on Canadian humour and theatrical comedy. His fiction has been adapted many times for the stage by other playwrights, and his character has been enacted in monologues based on his life.
Leacock studied at Upper Canada College (where he also later taught) and in Chicago before joining McGill University's Faculty of Economics and Political science in 1903 until his retirement in 1936. He wrote prolifically for magazines before producing his two most popular books Sunshine Sketches of a Little Town (1912) and Arcadian Adventures of the Idle Rich (1914).
Leacock's humour, now seen as quintessentially Canadian, is a combination of wry wisdom and wide-eyed naïveté. His stories, such as "My Financial Career," are virtually actors' set pieces.
His own plays include: Behind the Beyond (1913), Damned Souls (1923), and Sunshine in Mariposa, a four-act adaptation of Sunshine Sketches (1917). Mavor Moore also adapted Sunshine Sketches as a musical, Sunshine Town.
He was admitted to the Royal Society of Canada in 1919, and won the Mark Twain Medal in 1935. The annual Stephen Leacock Award for library humour is named in his honour. The Stephen Leacock Theatre for the Performing Arts is located in Georgina, near Toronto.
Profile by Gaetan Charlebois
Last updated 2021-03-08