Lees-Blakey, Dorothy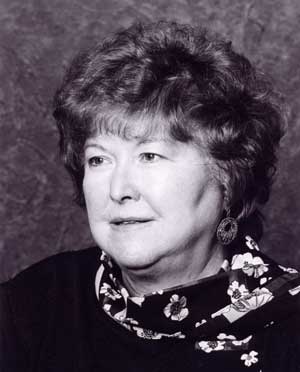 Lees-Blakey, Dorothy
Playwright, composer, lyricist, actor, translator, Dorothy Lees-Blakey is an Honours graduate of Manchester University and an Associate of the London College of Music. Since 1969, she has been based in Ontario. Her work has been published, professionally recorded and performed on stage, radio and television in Canada and in the UK, and she has also acted professionally on stage, television and film. She writes book, music and lyrics for all her musical productions.
Her Pied Piper Symphonic Tale in Poetry and Song (1996), which evolved from her children's musical The Pied Piper (1991) at Huron Country Playhouse II (director Barbara Wheeldon), has been performed across Canada (with conductor Charles Cozens) by the Mississauga Symphony (1996), Kitchener-Waterloo Symphony (1999), Calgary Philharmonic (2000), Edmonton Symphony (2000), Symphony Nova Scotia (2001), and in New Zealand by the Auckland Philharmonia (2000), Miguel Harth-Bedoya conducting.
She developed another children's musical written for Huron Country Playhouse II, The Girl on the Mountain (1990) (director Barbara Wheeldon) into the full-length musical Heidi for Chemainus Theatre, Vancouver Island BC, where it premiered in November 2002 (dir. Jeremy Tow). Heidi was produced in Rome in December 2005 by La Bottega d'Europa, and a cd of the songs launched in Rome in March 2006.
Her musical version of Pride and Prejudice premiered in May 2003 at the Ridge Playhouse, Victoria, BC (2003), directed by Sylvia Hosie. Love in a Minor Key, a musical revue based entirely on her songs, opened at Hamilton Place Studio Theatre in February 2004 (dir. Willard Boudreau and Gary Smith).
Her Feydeau farce adaptations include A Stitch in Time (Tailleur pour Dames) with original theme music, produced at Lighthouse Theatre, Port Dover, 1990, director Simon Johnston, and Please... Not in the Nude! (Mais ne t'promène donc pas toute nue!) McMaster University, 1980.
Publications include the farce A Stitch in Time PUC (Toronto 1988). She has acted in CBC TV series such as The Beachcombers, Home Fires, Gentle Sinners, For the Record, and for Global TV (Citizen's Alert). Her stage appearances include Theatre Aquarius (Private Lives), and Cambridge Arts Theatre (The Dresser, Blithe Spirit).
In 1993 she received the Bernice Adams Special Arts Award from the City of Cambridge, and in 1997 the Best Actress Award from Cambridge Arts Theatre.
Website: www.dorothylees-blakey.org
Last updated 2021-03-10