Mair, Charles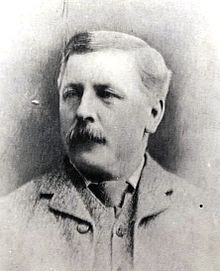 Charles Mair
Poet, journalist, and playwright born in Lanark, Upper Canada, 1838; died in Victoria, British Columbia in 1927.
Charles Mair is noted for a single play, the blank-verse tragedy Tecumseh (1886), which marks the beginning of a national drama with a Canadian historical subject.
Mair was an inflammatory speaker and organizer, forming the pro-Empire, anti-American, and anti-francophone Canada First movement. His is also known for his activities surrounding the Red River Rebellion (1869-70) - he was imprisoned by Louis Riel at the beginning and returned to Ontario to organize resistance against the Métis leader.
Tecumseh speaks of the alliance formed between the Shawnees and the British in the War of 1812. However, Tecumseh himself plays a supporting role to a glorified General Brock and to Mair's nationalist agenda, replete with stout-hearted Canadians, villainous Americans, and an innocent Indian maid.
Factory Theatre and Toronto Truck Theatre mounted the extensively revised play in 1971 as The Red Revolutionary.
Source: Alan Filewod. "Mair, Charles," The Oxford Companion to Canadian Theatre, eds. Eugene Benson and L.W. Conolly. Toronto: Oxford University Press, 1989.
Last updated 2021-04-14