Major, Melissa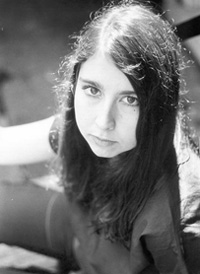 Melissa Major
Playwright, director and performer, based in Toronto Ontario. She has three B.A.s in Theatre, Psychology and Fine Arts Education from York University and an M.F.A. in Creative Writing from University of Guelph. Melissa Major has been working in theatre for over twenty years on one hundred stage productions. She is the founder and Artistic Director of the Cheshire Unicorn Theatre Company, created in 2002 to produce innovative, absurd, political, smart, surreal and experimental theatre by Canadian artists. The company produces work on subject matters ranging from historical absurdist drama to modern surrealism.
Her work has been produced in Canada, USA, Hong Kong and India. Theatre credits include: director of Crazy Gary's Mobile Disco (Hiroic Productions); writer/performer of Floozy: The Musical (Toronto Fringe 2008); writer of Even Burning (Toronto Fringe 2008 & New Ideas Festival 2008); director of Kid Cosmic (Summerworks 2008); writer/performer of Unicorn Horns (IDEA World Congress of Theatre in Hong Kong, Theatre Passe Muraille & Nuit Blanche 2006); writer/director of Kicking & Smiling (Nuit Blanche 2007 & Squiggfest 2007); and writer of Art is a Cupboard (Toronto Fringe 2006 & hotINK Festival, New York 2007).
Awards for her work include the York University President's Prize for Playwriting in 2004, 2006, and 2007. Art is a Cupboard won the hotINK 2007 playwriting competition when it was produced in New York, NY. Her only children's play Wanda T. Grimsby, Detective Extraordinaire won the 2006 Summer Shorts Festival Playwriting Competition, where the play was produced by Youth Education OnStage in Williston, North Dakota.
She is a full member of the Playwrights Guild of Canada.
Website: http://www.cheshireunicorn.com/mmbio.html
Last updated 2021-04-12