Murder Pattern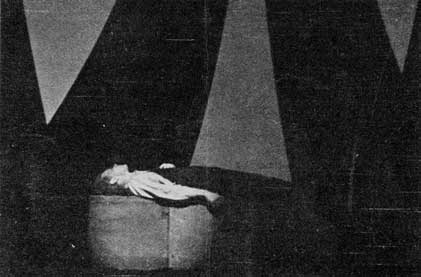 Murder Pattern
Murder Pattern: An Experiment Toward a Symphonic Theatre by Herman Voaden premiered at the Central High School of Commerce in Toronto in January 1936 by Voaden's Play Workshop. It was based on an actual murder in Haliburton, Ontario, in 1912. Violet Kilpatrick, Voaden's fiancée, had taught the children of both the murdered man and those of his murderer in a small country school near Minden after the First World War.
Voaden intended his play to create sympathy for the plight of isolated rural farming pioneers, and to fuse actual historical characters and incidents with an underlying significance found in the beauty of nature and its endless cycles of life, death and rebirth.
Next to Rocks, Murder Pattern is Voaden's most concise and effectively structured drama. A group of farmers and newspaper reporters provide the background information about the backwoods family feud that results in the shooting murder of Steven Doan by Jack Davis in the play. Surrounding these realistic characters, two Narrators and two Earth Voices suggest the metaphysical, timeless cycles of nature. They poetically describe the setting of the action, continue to comment on the imprisoned murderer and, at the play's conclusion, close with a poetic apotheosis affirming the dead Davis's eternal oneness with nature.
In Murder Pattern Voaden transformed the tragedy of a single individual's action and subsequent death into a poetic comment on the tragedy of man's mortality itself, for which the only solace is a belief in the oneness with the beauty and permanence of nature.
Some Toronto critics, like Bernard Keeble Sandwell in Saturday Night, and Allan Wade, the conservative British adjudicator of the 1936 Dominion Drama Festival, continued to criticize Voaden's non-realist multi-media "symphonic expressionist" playwriting and production style, which deprived the actor of his dominance over other stage elements. Sandwell found Murder Pattern "rather an adorned recitation than an acted play."
In his D.D.F. adjudication, Allan Wade similarly stated that the play "had something of the effect of music on me," but criticized the use of symbolic coloured lighting, choral narration, limited stage movement, and the lack of conventional dramatic conflict. According to Wade, the direction of Voaden's non-realist multi-media production style "was away from rather than towards drama as I believe the Festival conceives it to be."
From both a literary and a production point of view, Murder Pattern nevertheless remains Voaden's most accomplished drama. The play was successfully revived by Heiner Pillar at the George Brown Theatre in Toronto in 1987, and by Brian Quirt at Equity Showcase Theatre in Toronto in 1992.
Commentary by Anton Wagner
Last updated 2021-06-11