Frye, Northrop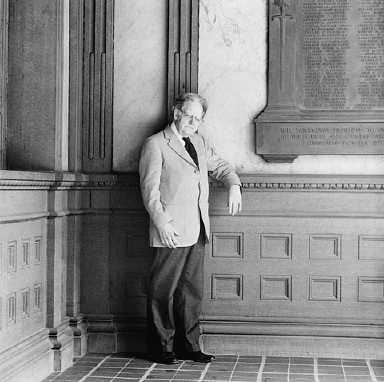 Northrop Frye
Critic/theorist born in Sherbrooke, Quebec, 1912; died in Toronto, Ontario, 1991. Northrop Frye was raised in Moncton, New Brunswick, and came to Toronto to compete in a typing contest. He studied philosophy and theology at the University of Toronto and Oxford University, returning to Canada to lecture at Victoria College for the duration of his academic career.
He first distinguished himself by writing an appraisal of the prophetic poetry of William Blake (Fearful Symmetry 1947). He expanded this and many of his other theories into his masterpiece, Anatomy of Criticism (1957), positing that the universe consisted of the desired and the abhorred, the former expressed by comedy and romance, the latter by tragedy and irony.
His studies of the works of Spenser, Shakespeare, Blake, Yeats, and Eliot have had a profound effect on Canadian literary theory and practice of theatre. Northrop Frye on Shakespeare won a Governor Generalís Award in 1986.
His thesis that Canadian literature demonstrated a prevailing "Garrison Mentality," which he advanced in The Bush Garden: Essays on the Canadian Imagination (1971), opened up thematic and imaginative possibilities for Canadian poets and playwrights.
Profile by Gaetan Charlebois and Anne Nothof
Last updated 2020-12-08