Primus Theatre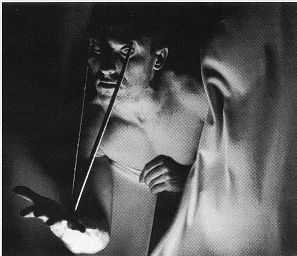 Primus' The Night Room (1994) with Ker Wells
Winnipeg, Manitoba, theatre company dedicated to ensemble acting and low-budget original creations. Primus Theatre was formed in 1988 by Richard Fowler and a group of National Theatre School of Canada students. The company has included actors Richard Clarkin (1989-90), Sean Dixon (1989-90), Donald Kitt (1989-98), Tannis Kowalchuk (1991-96), Stephen Lawson (1989-98), Karin Randoja (1989-96), Ker Wells (1989-96).
The troupe concentrated on exploratory theatre which was highly physical. Its style could be traced to the theatrical studies of Jerzy Grotowski and Eugenio Barba. In Professor Claire Borody's words, "The world the company had created was rendered in images that were not representative of daily experience. Furthermore, time and space were being explored and manipulated in ways that transgressed notions of form and structure associated with theatrical realism and the 'real' world."
The troupe performed in French and English and toured many of its works in Canada and abroad. It also offered an extensive series of workshops, symposia, and festivals in North American centres. The company folded in 1998.
In its repertoire of productions were: Dog Day (1989), Alkoremmi (1991-1996), Caravan of the Midnight Sun (1991 and 92), Life Cycle: Overture/Madrugada (1992), Viaggio al cielo, Scarabesque (1993-95), The Night Room (1991-97), Far Away Home (1995-97), and a series of works presented on CBC radio.
Further Reading: Claire Borody. "Slow Dancing on Black Ice: Primus Theatre and Navigating the Fringe," West-Words: Celebrating Western Canadian Theatre and Playwrighting. Ed. Moira J. Day. Canadian Plains Research Center P, University of Regina, 2011.
Profile by Gaetan Charlebois. Additional information provided by Kevin Longfield and Donald Kitt.
Last updated 2020-12-07