Theatre by the Bay
Theatre by the Bay is a professional regional theatre arts company focused on the development and production of new plays inspired by the people of Barrie, Ontario and the surrounding region of Central Ontario. It seeks to grow the Barrie theatre arts community by empowering local theatre artists and engaging local audiences. The company performs in the Five Points Theatre in downtown Barrie and tours its work throughout the region.
Theatre by the Bay was founded in 2001 by Larissa Mair and Nick Baillie, and was immediately a sensation in Barrie. It has since mounted more than fifty professional productions and employed hundreds of theatre artists, including Daryl Cloran, Maev Beaty, Richard Rose, Leslie Arden, Jeannette Lambermont-Morey, Tyler Murree, Alex Furber, Brett Christopher, MJ Shaw, Robert Joy, Jackie Francis and many others.
T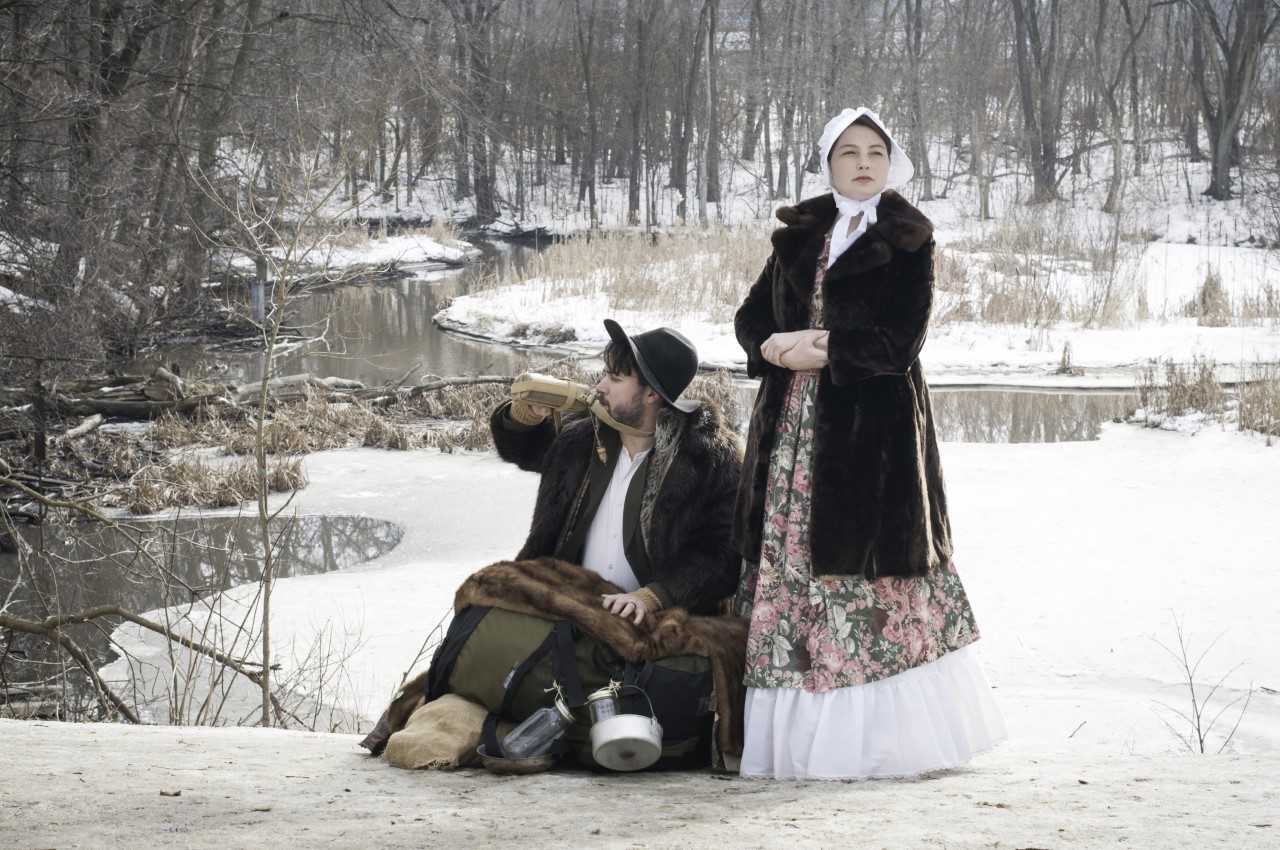 Mary of Shanty Bay by Leah Holder, with Josh Doerksen and Danielle Kostrich.
Alex Dault became Artistic Director of Theatre by the Bay in 2014, specializing in working with verbatim text and exploring local histories. Under his leadership, the company reworked its mandate to tell local stories using local artists, and introduced new development programs for emerging artists. It also offered a monthly play reading series for community members.
In 2014, Theatre by the Bay began to develop new work, commencing with Nine Mile Portage. This show was devised through an investigation of Barrie's origins prior to European contact. The production was immensely popular with residents and, with a multi-year grant from Trillium, returned for three subsequent years.
In 2016, Theatre by the Bay commissioned and produced We Must Have More Men! Barrie and the Great War, which looked at the leadership of women in the Barrie community during the war. The play was directed by Leah Holder and featured ten local actors. The production was staged site-specifically in the hall of Trinity Anglican. It was well-received by the community and sold out its entire run. The production was remounted in 2017, and after a two week run in Barrie toured to Base Borden and Collingwood and seen by more than 3,000 students and community residents.
In 2017, TBTB presented The Five Points (developed by Alex Dault and the ensemble) a verbatim play incorporating the voices of more than 150 people who live in Barrie's downtown, including persons who were homeless, business owners, politicians, sex workers, ice fishermen and many others.
Theatre by the Bay commissioned a new work by Vern Thiessen in 2021: a dramatic look at Barrie's ice industry of the 20th century. Artistic Director Iain Moggach will direct its world premiere in the 2023 season.
Website: www.theatrebythebay.com
Last updated 2021-11-30