Sexton, Tommy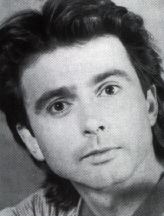 Tommy Sexton
Actor born in St. John's, Newfoundland and Labrador in 1955, died in 1994. He was the youngest of the founding members of the satirical company, Codco.
Before joining Codco, he had performed in children's theatre. After performing with the troupe (and before the company was brought to CBC television), Tommy Sexton toured with fellow Codco member Greg Malone in two co-written works The Wonderful Grand Band and Two Foolish to Talk About.
He died of AIDS soon after discussing his life as a gay man and his illness in a CBC TV profile.
In his honour two special funds were set up in Newfoundland: one to raise money for Newfoundlanders living with HIV and AIDS, the other to award a scholarship to a Newfoundland student in the Theatre Arts program at Sir Wilfred Grenfell College in Corner Brook. Called the Triple Threat Scholarship, it goes to someone who not only excels as an actor but can also sing and dance.
Profile by Gaetan Charlebois
Last updated 2021-04-13