Turgeon, Serge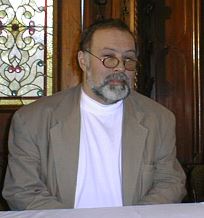 Serge Turgeon
Quebec-based actor, director and theatre manager; born March 12, 1946, died May 18 2004.
M. Turgeon began, like many others in Montreal, studying diction under Mme Audet. He joined the renowned amateur troupe, Les Apprentis-Sorciers when he was 17 years old and studied philosophy at the Université de Montréal . He has performed on radio, television, in theatre and film.
He was president of the Union des Artistes, the francophone performing arts organization, from 1985-97, where he helped to develop financial resources for the cultural milieu in Quebec, and to obtain greater rights for freelance artists, particularly in respect to taxation and royalties. He was also instrumental in creating development instruments for the cultural sector (Conseil des arts et des letters du Québec, la Caisse d'économie de la culture, le Fonds d'investissement de la culture et des communications). During his presidency, Union des Artists obtained the law on the Status of the artist in Quebec, and two years later in Canada.
He was the director general of the Théâtre du Rideau Vert from 1997 to 2004.
His awards include: Patriote de l'année (1990), Chevalier de l'Order national du Québec (2001), Chevalier de l'Ordre de la Pléiade (2003), Membre de l'Ordre du Canada (2004).
He had six children.
Last updated 2009-09-15