Vais, Michel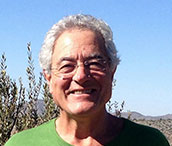 Michel Vais. Photo credit: International Association of Theatre Critics.
Quebec-based critic, born in Tunisia, January 20, 1946, and resident in Montreal since 1958.
At the age of seventeen, Michel Vais worked as an actor and co-director in the avant-garde theatre, Les Saltimbanques (1964-69), before studying theatre at Université de Montréal (BA), McGill University (MA), and the University of Paris (PhD). He has taught theatre at McGill University, Université de Québec à Montréal, and Université de Montréal.
He has been on the editorial committee of Jeu magazine since 1978, and has been very active in the Association québécoise des critiques de théâtre. He is also a member of the Canadian Theatre Critics Association, and Secretary General of the International Association of Theatre Critics. He has published in several European journals and has covered theatre for Radio-Canada radio for twenty-one years.
His critical style is erudite and researched. His reflections on his history as a theatre critic, L'accompagnateur was published in 2005.
Website: https://michel-vais.hubside.fr
Profile by Gaetan Charlebois.
Last updated 2022-02-28