Williamson, Susan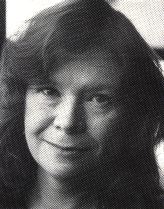 Susan Williamson
British-born actor now living in Saskatoon, Saskatchewan.
She studied at the London School of Music and Dramatic Art before performing extensively across the UK, including with director Peter Brook (notably in his production of Weiss' Marat/Sade, both on stage and film) and playwright/director Alan Ayckbourn, and at the Royal Shakespeare Company, the Royal Court and the National Theatres.
In Canada she has performed across the country in a wide range of productions including Coward's Blithe Spirit, Shakespeare's Romeo and Juliet, Othello and Twelfth Night, Williams' Glass Menagerie, Wilde's Importance of Being Ernest and Shaw's Pygmalion among many others. More recently, January, 1999, she performed in The Beauty Queen of Leenane, a Canadian premiere presented by the New Theatre Co-op in Saskatoon.
Susan Williamson has also taught and directed including at the Banff Centre for the Arts and at the University of Saskatchewan. In 1999, she directed Carol Shields' Thirteen Hands.
She was married to actor Henry Woolf from 1965 until his death in 2021. They have four children.
Last updated 2021-11-14