van Bridge, Tony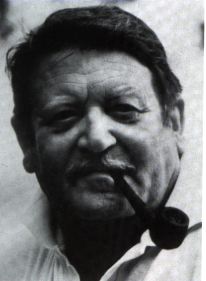 Tony van Bridge
British-born actor/director born in London, England, in 1917, died in Niagara-on-the Lake Ontario in 2004. He studied at The Royal Academy of Dramatic Art, graduating in 1938. He subsequently performed across the UK and toured with the Young Vic to Northern Europe.
He came to Canada with his second wife and children in 1954. He performed in television and radio, and in Douglas Campbell's Canadian Players, before performing what many consider to be a definitive Falstaff in Henry IV Parts I and II at the Stratford Festival in 1965. Van Bridge performed and directed at Stratford for fifteen years. But his name may forever be linked to the Shaw Festival, where he acted dozens of times and became interim Artistic Director in 1974-5. In 1977 he directed a full-length version (five and a half hours) of Man and Superman for the Festival. He has performed, at Shaw, in Heartbreak House (Captain Shotover), Candida, Thark, Once in a Lifetime, A Cuckoo in the Nest, Saint Joan, Eden's End, Cavalcade, An Inspector Calls and The Six of Calais (among many others). He devised, produced and performed in his one man show about G.K. Chesterton, GKC. The work toured extensively. He also played at theatres across the United States and Canada.
In 1999, he revived his well-received performance in Arthur Conan Doyle's Waterloo at the Shaw Festival. He retired from the Festival in 2000.
His performances were marked by a gruff style that only barely covered a taut wit and a gentleness of spirit.
In 2000 he was made Member of the Order of Canada.
Profile by Gaetan Charlebois. Additional information provided by Neil Barclay.
Last updated 2013-07-22