Bolt, Carol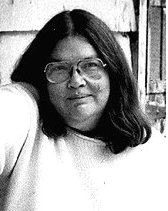 Carol Bolt
Feminist playwright born Carol Johnson in Winnipeg, Manitoba, August 25, 1941; died in Toronto November 28, 2000.
Her mother was a teacher, her father a miner and logger. She grew up in mining towns in Manitoba, Ontario and British Columbia, and graduated with a B.A. from the University of British Columbia in 1961.
After travelling to England and Israel, she co-founded a theatre for young audiences in Montreal. In the early 1970s, she moved to Toronto, and began working in theatre as a prop-maker and stage manager. She married actor David Bolt in 1969, and had a son. Her first professionally produced play was Daganawida (Toronto Workshop Productions/TWP 1970).
Buffalo Jump was commissioned and staged by Ken Kramer for the Globe Theatre in 1971, a documentary revue originally titled Next Year Country about the Great Depression and the "On-to-Ottawa trek in 1935. Bolt reworked the play the following year with Paul Thompson at Theatre Passe Muraille, employing the resources of collective creation. The story of the struggle for social justice is told through song and dance, mime, speeches, and comic vignettes.
Bolt was a prolific playwright. Pauline (Theatre Passe Muraille 1973) depicts the life of Mohawk poet Pauline Johnson. Red Emma (Toronto Free Theatre 1974, dir. Martin Kinch) recreates the impassioned life of Russian anarchist and suffragette Emma Goldman. It was televised on the CBC, and was adapted as an opera by the Canadian Opera Company in 1995, with music by Gary Kulesha. Shelter (Toronto Arts Productions 1975, dir. Eric Steiner) depicts the comic efforts of a widow to win her husband's federal seat in a small Saskatchewan town. Love or Money (Blyth Festival 1981) is a portrait of Canadian theatre impressario Ambrose Small. Escape Entertainment (Tarragon Theatre 1981, dir. Tomothy Bond) is a satiric comedy about the Americanization of the Canadian film industry and about the Toronto critics who apply New York standards of excellence with the assumption that these are "international." It features a thinly disguised portrait of Toronto Star critic Gina Mallet. Not surprisingly, it was pilloried in reviews. Famous (Tarragon 1997) is based on the crimes committed by Paul Bernardo and Karla Homolka, and addresses the issue of violent and deviant behaviour in women.
Her most produced play, the suspense-thriller One Night Stand (Tarragon Theatre 1977, dir. Eric Steiner), was made into a movie with the same cast (Brent Carver and Chapelle Jaffe) and directed by Allan King. The film won three Canadian Film Awards in 1978. Bolt also won the Chalmers Award in 1989 for Icetime (Theatre on the Move 1986), the story of a 12-year-old girl who won the right to play hockey on a boy's team.
She wrote many cross-cultural, educational plays for children, using mime, song, and interactive structure to engage the audience in Canadian stories: Cyclone Jack (Young People's Theatre 1972) depicts the heroic exploits of Onondaga runner Tom Longboat, who participated in the Olympics; Tangleflags (Young People's Theatre 1973) shows how a group of children from many different countries agree on a name for their town.
Bolt wrote many plays for radio, including "Dancing with Each Other," a comic look at the Dominion Drama Festival ("Morningside" 1987), and for television, including the popular children's program, "Fraggle Rock."
She was playwright-in-residence at the University of Toronto (1977-78), and attended the Banff Centre for the Arts in 1983. She was a founding member of the Playwrights Co-op (now Playwrights Guild of Canada).
In 1998 she edited Who Asked Us Anyway? published by the Labrador School Board to commemorate the 25th anniversary of the Labrador Creative Arts Festival, where Bolt had been a visiting artist.
Her ambitious plays typically have strong socio-political themes, and depict characters who aspire beyond the limitations of their environments to change the world. They are usually episodic in structure, and often collaboratively created.
She said of theatre, "There is something really powerful about the stage. It's quite an amazing experience to sit in an audience during a production of a play you've written and watch people react. The stage is where I started and it's where I always want to return."
A collection of her plays, Reading Carol Bolt (ed. Cynthia Zimmerman) is published by Playwrights Canada Press (2010).
Other sources: Kate Taylor. "Playwright helped Canadian theatre find new directions," The Globe and Mail. 29 Nov 2000; James Noonan. Oxford Companion to Canadian Theatre. Eds. Eugene Benson and L.W. Conolly Toronto: Oxford UP, 1989.
Profile by Gaetan Charlebois and Anne Nothof
Last updated 2018-02-06