Plaxton, Jim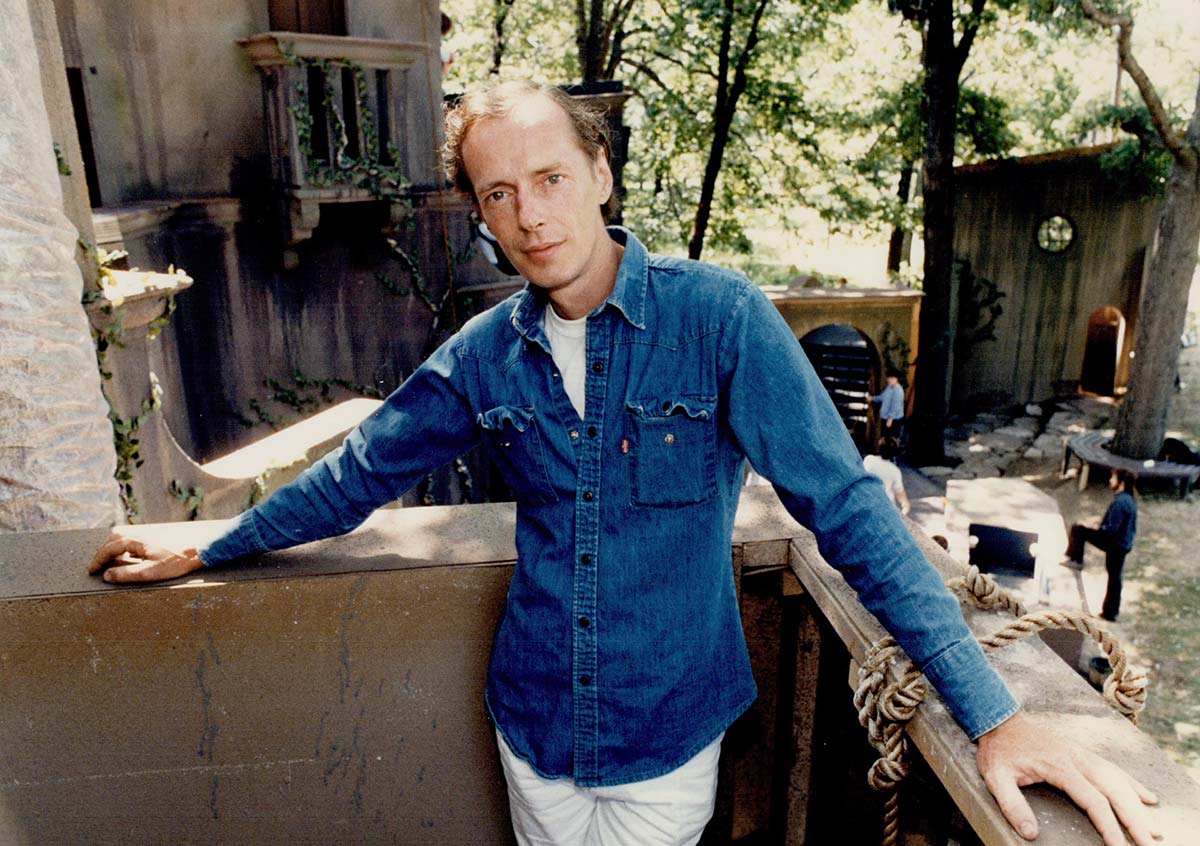 Jim Plaxton, 1986. Photo by Tony Bock, Toronto Star Archives. Toronto Public Library.
Set and lighting designer for theatre, dance, and film, with a strong architectural sense of volume and space. Born in Winnipeg Manitoba in 1942, he worked in an architect's office for five years in the early 1960s, and on the sets of films. He also painted sets for the Manitoba Theatre Centre. After moving to Toronto, he studied film at The Three Schools of Art in 1966-67, and worked at Film Canada, before becoming a resident designer for the Toronto Dance Theatre (Encounter 1969).
In the early 1980s, he was an Associate Artistic Director for Theatre Passe Muraille, where he created an architectural installation for D + C (1983), including an apartment room on a suspended platform which resembled a boxing ring, and a backstage annex. He also designed the renovations to the theatre, creating a larger main space by removing the central section of the upper story, leaving a balcony around three sides.
His many designs for theatre across Canada include: The Crackwalker by Judith Thompson (Centaur Theatre 1982); O.D. on Paradise by Linda Griffiths and Patrick Brymer (Theatre Passe Muraille 1984); Romeo and Juliet (The Dream in High Park, Toronto Free Theatre 1985); History of the Village of the Small Huts and The Global Village by Michael Hollingsworth (VideoCabaret, Theatre Passe Muraille, The Theatre Centre, Factory Theatre 1985-98); Prism, Mirror, Lens by René Highway (Toronto Dance Theatre 1989), for which he experimented with light projectors and computer graphics of natural and urban landscapes and of Native art. In 1994, he designed the revival of George F. Walker's Nothing Sacred at the Winter Garden Theatre.
His work for stage is characterized by the use of found objects "to impart a visual structure to performance" and which create an intense emotional atmosphere (Rewa 171). For O.D. on Paradise, he imported twenty-seven tons of sand, used black light to provide the actors with tans, and bumped up the temperature in the theatre. For Picnic in the Drift by Tanya Mars and Rina Fraticelli (Ice House, Harbourfront 1981), he used dairy cases over the lights on the stage to cast ominous shadows, and sheets of cardboard to construct a bridge supported by two scaffold towers crossing the stage.
He was awarded a Dora Mavor Moore Award for Lighting Design for his work on George Walker's Theatre of the Film Noir (1981); and a Dora for Set Design for Michael Weller's Loose Ends (1982). His designs for Too True to be Good (Shaw Festival 1983) represented Canada at the Prague Quadrennial.
Sources: Natalie Rewa. Scenography in Canada: Selected Designers. Toronto: University of Toronto P, 2004.
Martha Mann. "Plaxton, Jim," Oxford Companion to Canadian Theatre. Eds. Eugene Benson and L.W. Conolly. Toronto: Oxford UP, 1989.
Last updated 2021-07-29