Bedford, Brian
Actor, director, born in Morley, a small mill town in West Yorkshire, England on February 16, 1935; died January 13 in Santa Barbara, California of cancer at the age of 80. From 1952-54 he studied theatre at London's Royal Academy of Dramatic Art, and then performed in London and New York. He emigrated to North America in 1959, and played in, among many others, the world premiere of Peter Shaffer's Five Finger Exercise.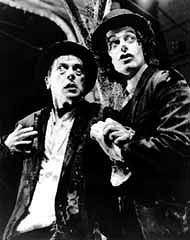 Since 1974, he acted and directed at the Stratford Festival, playing leads in Shakespeare's Twelfth Night, Richard III, Measure for Measure, As You Like it, Macbeth (1990) and King Lear (2007); Bottom in A Midsummer Night's Dream (1999, dir. Richard Monette); and Shylock in The Merchant of Venice (2013, dir. Antoni Cimolino). For the Stratford Festival, he has also starred in Chekhov's Uncle Vanya; Molière's The Misanthrope; Noel Coward's Private Lives (opposite Maggie Smith); and Beckett's Waiting for Godot. He also performed his solo show, Ever Yours, Oscar at Stratford.
For the Stratford Festival, Bedford directed a critically acclaimed production of Waiting For Godot in 1996. In 2009, he directed and starred in Oscar Wilde's The Importance of Being Earnest, playing the infamous Lady Bracknell, marking 27 seasons of acting and/or directing at the Festival. The Stratford production of The Importance of Being Earnest transferred to the American Airlines Theatre in New York in 2011, with some of the original cast, and Bedford as Bracknell. In his review for The Globe and Mail Adam Feldman commended Bedford's remarkable understated performance--"how seldom its high points rely on verbal dazzle. Without slighting Wilde's exquisite jokes ... he wrings equal mirth from a false smile, a genuine wince, or such seemingly artless verbiage as 'Found!' or 'I beg your pardon?' (15 Jan 2011: R6).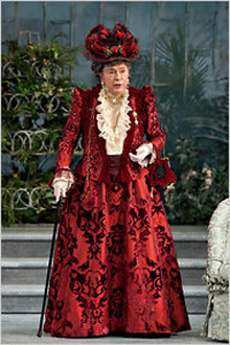 Brian Bedford as Lady Bracknell in The Importance of Being Earnest Photo: Sara Krulwich, The New York Times
He was inducted into the Theatre Hall of Fame (in Broadway's Gershwin Theatre and given to actors who have had a distinguished career spanning 25 years or more) in 1997, having won the Tony, Obie, New York Drama Desk and Los Angeles Drama Critics' Awards.
His performances were marked by concentration and intelligence, attention to detail, and a mellifluous voice.
Profile by Gaetan Charlebois and Anne Nothof. Additional information provided by Lindy Cooksey, Bethany Felts and Claire Sedore.
Last updated 2020-03-31