Broue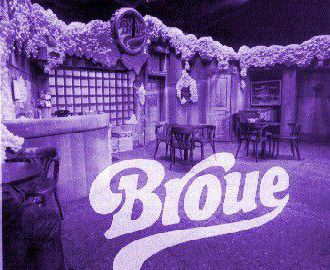 The set of Broue (with the beer-suds decoration) as seen in the company poster
Improvisational comedy by Claude Meunier, Louis Saïa, Jean-Pierre Plante and Francine Ruel, premiered in 1979 at the Théâtre des Voyagements, Montreal, with the same three actors (Marc Messier, Michel Coté and Marcel Gauthier) performing it on tour for forty years, for a record three thousand times. It was presented as part of the Compagnie Jean-Duceppe's 1980-81 season where it began to reach the huge following that has made it a cult performance piece.
More phenomenon than play, Broue has been translated into English (as Brew and performed by the same three actors at Centaur Theatre), been adapted for a Belgian audience (as Chez Willie, also a long-running smash-hit), been fêted on television and inducted into the Quebec theatre Hall of Fame (at the 1995 Masques Awards). In 2018, it was resurrected with three new actors.
The work is critic-proof and has gained much of its success from word of mouth. Simply: it takes place in a bar for men only, and the three actors play up to twenty different bar patrons including heavily-accented drunks and snotty businessmen. Their lines are frequently inspired by current affairs.
Commentary by Gaetan Charlebois
Last updated 2020-05-14