Cabaret neiges noires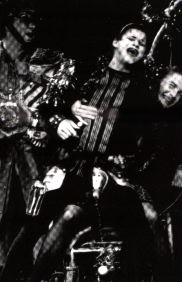 Satiric musical by Dominic Champagne, Jean-Frédéric Messier, Pascale Rafie and Jean-François Caron; premiered at Théâtre la Licorne (a production of Théâtre Il Va Sans Dire), November 19, 1992; directed by Champagne with music by Catherine Pinard; featuring Pinard, Champagne, André Barnard, Marc Béland, Julie Castonguay,Roger La Rue, Norman Helms, Suzanne Lemoine, Wajdi Mouawad and Dominique Quesnel; set and costumes by André Labbé, lighting by Claude Boissonneault and choreography by Béland, Lemoine and Danielle Hotte.
This is a seminal Generation X work (though the playwrights would despise the description) that has been revived often in Montreal, and toured Canada and the world in over 100 productions to wildly enthusiastic audience and positive critical reaction.
Written over a period of a year and through several workshops, the piece - a series of short, barely-related sketches and songs - sets out to explode Baby-Boomer icons: beloved Quebec television shows, Martin Luther King, Jacques Brel, and theatre itself (a belligerent and confused "audience-member" is abused by the cast).
It is thrilling theatre - raunchy, silly, daring, hilarious and joyously politically incorrect - which uses older forms of theatre (cabaret) to mock the pseudo-artsy alternative scene.
It firmly established Messier, Champagne, Caron and Mouawad as multi-talented artists to watch.
A video version of the play was released in 1998.
Readings: Dominic Champagne, Jean-Frédéric Messier, Pascale Rafie, Jean-François Caron. Cabaret Neiges Noires. Montreal: VLB, 1994.
Commentary by Gaetan Charlebois
Last updated 2020-08-11