Cailloux, André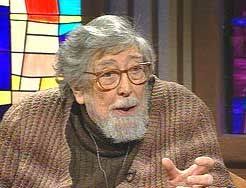 André Cailloux
Actor, director, musician, writer, born in Issoudun, France in 1920; died November 14, 2002 in Sherbrooke Quebec of cancer at the age of 82.
André Cailloux studied and acted in Europe before coming to Canada and joining Les Compagnons de Saint-Laurent in 1951. He worked with the Théâtre du Nouveau Monde and the Théâtre du Rideau Vert (over forty roles including leads in L'Idiote, L'Heureux stratagème, Un mois a la campagne/A Month in The Country, Les Trois Soeurs/The Three Sisters). In 1969, he began to direct at Rideau Vert.
He also worked extensively in television and film, producing thousands of TV shows for children, and was a published children's author and playwright. His warm, generous personality endeared him to many, who knew him as "Grandpère Cailloux."
He said of the link between writing and acting, "When I am acting, I read the play, letting myself be led by the director; I try to approach the character, to discover his dimensions and to identify myself with him. When I write, I let my imagination work. The characters that are born do it for a reason. I direct them with the skill I have at the same time leaving room for a kind of automatism, for the subconscious."
Profile by Gaetan Charlebois
Last updated 2020-09-01