Calderisi, David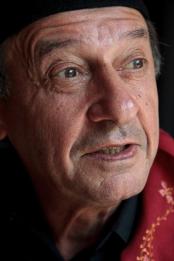 David Calderisi
Actor/director born on June 21, 1940, in Montreal, Québec who has enjoyed an extensive career in the UK and Canada since the 1960s. David Calderisi trained as an actor in England where he met David Halliwell, a long time collaborator. Together, they attempted to revolutionize British theatre by bringing lunchtime performances to the masses. Their company, Quipu, began in 1968 and operated until 1973 at three main venues: the Arts Theatre based at LAMDA, the Mercury Theatre, Colchester, and the Little Theatre, in central London. He has also acted and directed in theatres in London's West End.
In Canada, Calderisi has acted in the premieres of David French's Jitters and Michael Cook's Jacob's Wake, and he has directed the premiere of David Fennario's first work,On the Job. to great acclaim. More recently, he could be seen performing The Rubaiyat of Omar Khayyam translated by Edward FitzGerald at the Rayhoon Persian Eatery in 2013.
Calderisi has also appeared in many television and film productions. He starred in Dr. Who, The Littlest Hobo, War of the Worlds, Forever Knight, and Due South. He also made a memorable appearance in 2007 as Boutros Boutros-Ghali in Shake Hands With the Devil and had a recurring role as Barry Calvert in Earth: Final Conflict.
He directs and teaches at the Centre for Indigenous Theatre, the National Theatre School of Canada, York University, and at George Brown, Humber, and Sheridan Colleges.
Bibliography:
Chambers, C., 2002, The Continuum Companion to Twentieth Century Theatre (458pp)
https://earthfinalconflict.fandom.com/wiki/David_Calderisi
https://www.theguardian.com/news/2006/mar/22/guardianobituaries.artsobituaries
https://www.independent.co.uk/news/obituaries/david-halliwell-472814.html
https://earthfinalconflict.fandom.com/wiki/David_Calderisi
https://www.imdb.com/name/nm0129514/bio?ref_=nm_ov_bio_sm
http://www.okdac.net/bioDavid.htm
https://twitter.com/davidcalderisi?lang=en
Profile by Kirsten Hawson, University of Alberta.
Last updated 2020-12-09