Canadian College of Performing Arts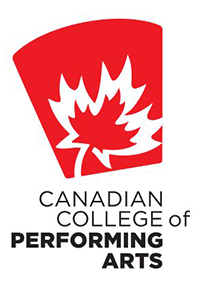 Private performing arts institution in Victoria, British Columbia, that is owned and operated by the Canadian Heritage Arts Society (CHAS). It was founded by Jacques Lemay and Janis Dunning in 1998; Caleb Marshall is currently Managing Artistic Director.
CCPA's mandate is to prepare young Canadians for a career in the performing arts. They offer three conservatory-style post-secondary programs, where emerging artists receive skill-based training and mentorship. Classes include acting, dance, singing, musical theatre, physical theatre, theatre sports, improvisation, stage combat, screen acting and career management. They are designed to be intense and rigorous, offered at high professional standards from expert instructors, mentors, and guest artists.
In addition to classes, workshops, and rehearsals, students must complete Professional Development Credits to expand their experience beyond the classroom. All programs offer dynamic performance opportunities, professional collaborations, and a high number of program hours.
CCPA is a sending institution to the BPA program, a collaborative Bachelor of Performing Arts degree from Capilano University and Douglas College. Successful graduates from the Performing Diploma and Applied Performing Arts Diploma programs are eligible to transfer credits earned at CCPA directly towards admission to the BPA program.
Many graduates have performed at the Stratford Festival, the Shaw Festival, and the Charlottetown Festival, on Broadway and London's West End.
Bibliography:
http://www.ccpacanada.com/about/
https://www.capilanou.ca/
https://www.douglascollege.ca/
https://alumnius.net/the_canadian_college-32044
https://www.broadwayworld.com/montreal/article/Canadian-College-of-Performing-Arts-Holds-Auditions-20180205
Profile by Kirsten Hawson, University of Alberta
Last updated 2021-03-12