Craig, David S.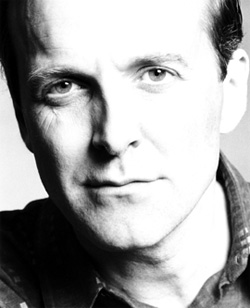 David S. Craig
Dramatist David S. Craig has served as an Artistic Director, playwright, performer, director, and producer of plays for over thirty-five years. He was born in Montreal Quebec in 1952, and acquired post-secondary theatre training at the Rose Bruford College of Speech and Drama in London, England from 1971-74. Currently based in Toronto Ontario, he is a passionate promoter and creator of theatre for young people.
Returning to Canada in 1976, he founded Theatre Direct, which in five years became one of the largest touring theatres for young audiences in Canada. During this period he wrote The Clown Who Laughed (1976), The Great Canadian Energy Show (1978), All For Beaver Hats (1980), The Dreamburger Dilemma (1981) and The Railroad Story (1982).
In 1983, with Robert Morgan he founded Roseneath Theatre, a company devoted to original family theatre. With Morgan, he he co-created and performed in Morgan's Journey (1983, Chalmers Award) Head à Tête (1987, Dora Mavor Moore Award), Health Class (1995, Dora Nomination), The Book of Miracles (1989), and Dib and Dob and the Journey Home (1998, Dora Award and Chalmers New Play Award). These high quality, small cast productions have earned the company a national and international reputation for excellence.
Craig became sole Artistic Director of Roseneath Theatre from 2001 to 2011, for which he wrote Danny, King of the Basement (2001, Dora Award, German Theatre Prize nomination), Smokescreen (2005), Rocket and the Queen of Dreams (2008, Dora Nomination), and Tough Case (2012). Smokescreen tackles the ticky subject of marijuana use by teens through the conflicting points of view of an articulate teen, arrested for dealing, his frustrated and angry father, and a social worker who acts as an intermediary. It has been translated into five languages, and for two years was in the repertoire of the GRIPS Theatre in Berlin.
His adaptation of The Neverending Story premiered at the Imagination Stage and the Seattle Children's Theatre, and in 2012 played at the Young People's Theatre in Toronto, and the Skirbal Centre in Manhattan.
Between 1989 and 1997, he produced, wrote, and performed his one man show Napalm the Magnificent at the Poor Alex Theatre in Toronto and at major theatres and festivals across Canada, including a commercial run at the John Houseman Theatre in Manhattan. In 1996, the character of Napalm was incorporated into a new play for adolescent audiences entitled Dancing with the Dark. The Toronto Sun declared the show "one of the ten best productions of the year." For his performance, he won a Chalmers Award for Outstanding New Play and a Dora nomination (1997).
Other professional credits include: Booster McCrane, P.M. (Toronto Free Theatre, 1982), Journey from A.M.U. for the Metropolitan Toronto Special Committee on Child Abuse,(1984, Dora Nomination), Cue for Treason (Young People's Theatre, 1986), Fires in the Night: The Story of the School on Wheels (Blyth Festival, 1998), and Having Hope at Home (Blyth Festival, 2003), The Fan adapted from the Carlo Goldoni's 18th century farce for Odyssey Theatre in Ottawa (2011, winner of the 2012 Rideau Award for Best Adaptation).
In the summer of 2017, his new work about WWII, Bombers: Reaping the Whirlwind premieres at 4th Line Theatre (dir. David Ferry).
He has extensive credits in radio drama. He was creator, story editor and principal writer for Booster McCrane, P.M. a fifteen-minute weekly political comedy series broadcast on CBC Radio's "Morningside" (1991-93). Also for CBC Radio's "Metro Morning", Craig created and wrote a fifty episode radio series titled The Diamond Lane.
Danny, King of the Basement, Having Hope at Home, and Rites of Passage (including Smokescreen and Napalm the Magnificent) are published by Playwrights Canada Press.
He is married to the Gemini Award winning actress Robin Craig and is the father of Andrew and Lorna.
Last updated 2017-04-18