Macdonald, Daniel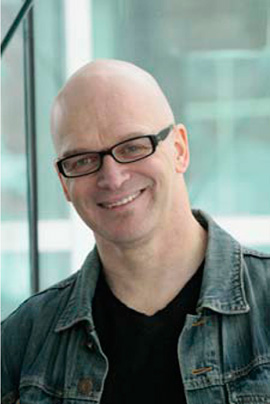 Daniel Macdonald. Photo by Bill Whitten
Saskatchewan playwright, actor, and teacher of drama and creative writing at Miller High School in Regina, also part time instructor in the Arts Ed faculty at the University of Regina. He has collaborated on numerous theatre projects with students, and his high school improv team took first place in the Canadian Improv Games National Championships at the National Arts Centre. He has acted in Corner Gas, The Tommy Douglas Story, Renegade Press.com, Conquest, and Something More.
Pageant (Alberta Theatre Projects 2003) "is about cars, beauty pageants and a lot of love, hate and revenge" (Macdonald, interview). It is set in the East Kootenay mountains of British Columbia. The towns of Deer Ridge and Preston come to blows over their most prized possession, Trudy – a beauty queen and daughter to Bud, the town drunk and the mountains' most brilliant car customizer. Trudy's rise to fame and fortune depends only on her will, ambition, and the dubious talents of a love-struck plastic surgeon. In order to compete for the coveted title of Miss Canada. she must forsake her town, her father and her boyfriend, which leads to her family's attempt to win her back.
MacGregor's Hard Ice Cream & Gas (Persephone Theatre 2005) is "part Prairie gothic and part absurdist comedy" (Cam Fuller, Star Phoenix), featuring a dysfunctional family in a dying Saskatchewan town. The father has died but can't be buried because the ground is frozen. He is preserved in the attic in a coffin packed with ice-cream by the youngest son. The older son wants to observe the conventional proprieties, but he also wants to keep the family store running, even though the customers for ice cream and gas are rare. The recently returned 10-months pregnant daughter focuses on the distant train whistle, which holds out the promise of a better life elsewhere, while the mother walks in circles in the basement. The play is published by Playwrights Canada Press.
Velocity examines what happens when a 15-year-old girl uses her father as her physics experiment and explodes him out of the 73rd floor of his office tower as she watches and takes notes. It premiered at the 2006 Saskatchewan Spring Festival of New Plays and was winner of the New Works of Merit (NYC) playwrighting contest. Absurd, biting, and vicious, it examines the fall of civilzation from the point of view of a high school student as she watches her parents' relationship collapse.
A History of Breathing premiered at Persephone Theatre in November 2012, and is published by Playwrights Canada Press. "The play takes place in a post-apocalyptic world ravaged by war, death, destruction and finally engulfed in a flood. Two drifting paper boats carry the few remaining survivors: Toad, Muskrat and Turtle are waiting for The Lady to fall from the sky to help her begin the world anew; Lily and her father have escaped their ravaged village and fear their world is ending. They are torn between Lily's fervent desire to return home and die in peace, and her father's intuition that God has saved them for a purpose"(Paige Goodman review, Ominocity 15 Nov 2012).
Macdonald is past president of the Saskatchewan Playwrights Centre and has served on its board for eight years. He is a two-time winner of the SIMPIA award for acting, a winner of the Regina Writer's Award, and the Enbridge national playwrights award, and has been short-listed for Saskatchewan Book of the Year.
Last updated 2014-01-16