Harron, Donald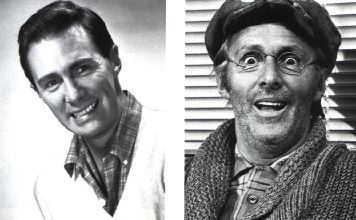 Don Harron in the 1950s (l) and as Charlie Farquharson (photos: National Archives)
Actor, writer, director, and composer, born in Toronto, Ontario in 1924, died in January 17, 2015 at the age of 90.
He served in the RCAF in WWII, and then studied at the University of Toronto while performing for CBC radio and the New Play Society (notably in Spring Thaw). In 1950, he performed in and directed the NPS production of Riel by John Coulter. He was part of the Stratford Festival ensemble in its early days.
His most famous creation was the goofy rustic, Charlie Farquharson, a character he introduced in Spring Thaw in 1952, and which he has toured across the nation and around the world, and performed on television. He told Global Television that the prototype for Charlie was a character he played in The Inheritance for the New Play Society.
He wrote the book and lyrics for long-running, and very popular musical, Anne of Green Gables, which premiered at the Charlottetown Festival in 1965.
For many years, he ran a cabaret with his third wife, singer Catherine MacKinnon.
Harron was invested as a member of the Order of Canada in 1980, and named as a member of the Order of Ontario in 2000 for his contributions to the Canadian entertainment industry. In 2007, he was given the Gemini Award for Lifetime Achievement in Radio and Television.
Last updated 2015-02-10