Eddy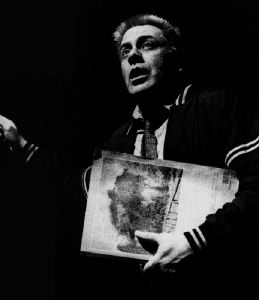 Drama by Jean-Marc Dalpé, premiered at Nouvelle Compagnie Théâtrale / Théâtre Denise-Pelletier, October, 1993, directed by Brigitte Haentjens, set designed by Claude Goyette, lights by Guy Simard, costumes by Lyse Bédard, featuring Pierre Lebeau, Sophie Clément,Luc Proulx, Pierre Collin, Luc Bourgeois. Translated by Robert Dickson as In The Ring and presented at the Stratford Festival, directed by Richard Rose, in 1994.
Eddy dreamed of a pro boxing career but now runs a greasy spoon in Sudbury with his wife, Mado. Suddenly he is given one last chance...to manage a young fighter. But even as he prepares the boy, Eddy has to do battle with the ghosts of his own past.
Like all of Dalpé's works (Le chien, for instance) the language is blunt and spare and the stagecraft masterful.
Commentary by Gaetan Charlebois.
Last updated 2020-08-24