Stevens, Emma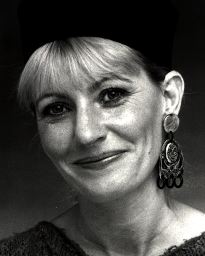 Emma Stevens
Actor/director born in London, England, in 1948 where she acted extensively before coming to Canada with her family in 1980. She is the founder of Quebec companies Theatre Lac Brome, Knowlton Playhouse, and Echo Arts Productions in the Eastern Townships of Quebec. With this last she has directed Jesus Christ Superstar and Joseph and the Amazing Technicolor Dreamcoat, among others, before the bank foreclosure in 1999.
Emma Stevens has performed with the Piggery Theatre (Deathtrap, M. Ribadier's System) as well as with Theatre Lac Brome (Agnes of God, A Woman Alone, Shirley Valentine), and Knowlton Playhouse (Educating Rita, Blithe Spirit). She has also toured Shirley Valentine extensively. In 2015, she reprised the role for a Theatre Lac Brome production.
In 1999 she performed in the Centaur Theatre production of The Prime of Miss Jean Brodie; and in Loot and Michel Tremblay's The Impromptu of Outremont at Lac Brome.
Her performances are marked by an unusual combination of sturdiness and elegance with a resonant, lovely voice.
She currently lives in Knowlton, Quebec. She has two sons, Eugene and Danny, and is grandmother to Eugene's son Lucca.
Profile by Gaetan Charlebois
Last updated 2021-11-18