Feore, Colm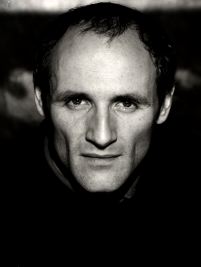 Colm Feore
Multi-talented actor, who has essayed a wide range of roles. Colm Feore was born in 1960 in Boston to Irish parents, and is a graduate of the National Theatre School of Canada. He has been a star of the Stratford Festival almost from the time he began working there in 1981.
He has played in over forty of the company's productions, having appeared as lead in many of Shakespeare's most difficult plays including Romeo and Juliet (Romeo and Mercutio), Othello (Iago), The Taming of the Shrew (Petruchio), Richard III (Richard), Much Ado About Nothing (Benedick), Hamlet (Hamlet), Coriolanus (Coriolanus, 2006), Macbeth (Macbeth, 2009), King Lear (Lear, 2014). He has also played the roles of Cyrano in Rostand's Cyrano de Bergerac, the Pirate King in Gilbert and Sullivan's The Pirates of Penzance, Henry Higgins in My Fair Lady (2002), Fagin in Oliver! (2006), Don Juan in Moliere's play, Archer in The Beaux' Stratagem (2014), and Harper in The Miser (2019).
In his review of The Beaux Stratagem, J. Kelly Nestruck claims that "there is perhaps no better Canadian actor living as well suited to the particular demands of Restoration comedy. His cool, cerebral charm and general sense of insouciance are just right for the period's plays and certainly for the role of Archer - a 'gentleman of broken fortune' who has disguised himself as the footman to his friend Aimwell" (The Globe and Mail 19 August 2014: L2).
Colm Feore also frequently acts on television and in film and is especially well-known for his performance in the title role of Thirty-Two Short Films About Glenn Gould. He was also seen in Julie Taymor's film adaptation of Titus Andronicus, as Marcus opposite Anthony Hopkins' Titus. In 2002, he appeared as Pierre Trudeau in the mini-series about the late Prime Minister, and 2006 he was the Anglo half of the twosome in the Canadian film Bon Cop, Bad Cop. In 2010 he played a school principal as a Lenin figure in the Canadian comedy The Trotsky.
In 2013, he was appointed Officer of the Order of Canada, and in 2016, he was presented with a Legacy Award by the Stratford Festival in recognition of his substantive contributions. In 2019, he was awarded a Governor Generalís Award for the Performing Arts for Lifetime Artistic Achievement.
He has three children, Jack, Thomas and Anna and lives in Stratford with his wife, Donna Feore, a regular director and choreographer at the Festival.
Viewings: Behind the Scenes at the National Theatre School, Groupe Mediavision Inc., dir: Luc Bourdon, 1997 in which Colm Feore speaks of his time at the School.
Among sources: Tony Atherton. "Playing the part," The Montreal Gazette/The Ottawa Citizen, 30 March 2002. Additional information provided by Rob McKenzie.
Profile by Gaetan Charlebois and Anne Nothof
Last updated 2022-06-06