George, Chief Dan (Teswahno)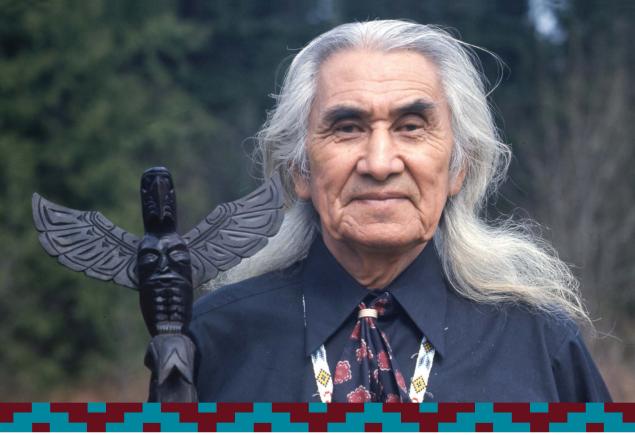 Chief Dan George
Actor, poet, born on Burrard Indian Reserve No. 3, British Columbia, 1899; died in Vancouver, BC, 1981. To most Canadians he is a well-known First Nations artist and advocate.
Chief Dan George was named Geswanouth Slahoot by his family; his English name was originally Dan Slaholt, the surname changed to George when he entered a residential school at age 5. He worked at a number of different jobs, including as a longshoreman, construction worker, and school bus driver. He was band chief of the Tsleil-Waututh Nation from 1951 to 1963 (then called the Burrard Indian Band). (Wikipedia)
In 1959 he began to act, usually as the wise elder on stage and television. His career is particularly notable for three performances: as David Joe in the premiere of George Ryga's The Ecstasy of Rita Joe (1967), for his recitation of his own Lament for Confederation at the centennial celebrations in Vancouver in 1967, and as the deadpan-humorous elder in the movie Little Big Man (1970, opposite Dustin Hoffman). For this role, he was the first Indigenous actor to be nominated for an Oscar.
Chief George's performances were marked by stoic wisdom and strength of character.
He was made an Officer of the Order of Canada in 1971. The theatre at the University of Victoria is named in his honour.
Reading: James Hoffman. The Ecstasy of Resistance: A Biography of George Ryga. Toronto: ECW Press, 1995 (in which Professor Hoffman discusses the creation and subsequent productions of The Ecstasy of Rita Joe).
Last updated 2021-01-05