Gesser, Sam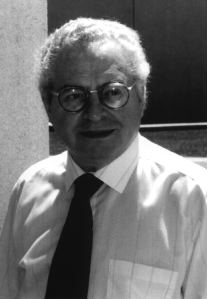 Sam Gesser
Impresario and writer, born in Montreal, Quebec, in 1930, the son of Polish immigrants. He grew up on St. Urbain St. where Mordecai Richler located the protagonists of his novels. Sam Gesser died April 1, 2008 of cancer.
By the age of 15 he was cultural chairman of the Intermediate Division of the YMHA and B'nai Brith before working as a graphic artist. He collected Quebec folk and fiddle music, and began his own recording company. He also wrote hundreds of scripts for the CBC, and hosted several radio programs on music. In 1948 he became Canadian representative for the United States' Folkways Records, integrating the company's music in his radio and television programs. He began his career as impresario by bringing some of the Folkways artists to Montreal and the rest of Canada.
Over the next four decades he presented over 300 artists and ensembles in over 2,000 performances which included: Black Light Theatre of Prague, Falka Prague Pantomime, Grand Kabuki of Japan, Peter Brook's production of the Peter Weiss play Marat/Sade, Momix, Shaw Festival and Stratford Festival tours, among many others.
Gesser was the official booking agent for the Canadian Pavilion at the Expo 67 World Fair in Montreal where he presented 400 artists. In 1970 he booked Canadian artists at the World Fair in Osaka, Japan.
In 1984 he financed a musical adaptation of Mordecai Richler's novel, The Apprenticeship of Duddy Kravitz, simply called Duddy, which premiered at Edmonton's Citadel Theatre. It closed in Ottawa, without reaching its Broadway objective.
His own play, Fineman's Dictionary, was produced in 2000 in Montreal starring Fyvush Finkel and directed by Muriel Gold.
In 1993 he was inducted into the Order of Canada.
He said, in 2001 (celebrating 50 years in show business), "I sort of fell into this business. When I first started, I didn't care whether I was listening to some folksinger singing 60 verses of an epic poem or a concert by the Montreal Symphony.
Sources include: Alan Hustak, "Presenting...Sam Gesser," The Montreal Gazette, 11 Aug 2001
Profile by Gaetan Charlebois and Anne Nothof.
Last updated 2010-11-29