Goethe-Institut Toronto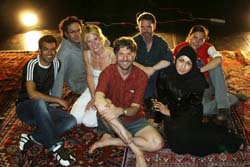 The Goethe-Institut is the official German cultural centre with a global reach. The Goethe-Institut in downtown Toronto – one of a network of 144 worldwide – provides services for Ontario, British Columbia, Alberta, Manitoba, and Saskatchewan.
For over forty years, the Goethe-Institut Toronto has been promoting a dialogue between Canadian and German artists in order to foster an understanding of contemporary German culture and facilitate a transatlantic exchange of views, artistic practices, approaches and aesthetics. The Institut strives to support the Canadian theatre scene by staging German plays with Canadian artists, organising workshops and discussions with Canadian and German playwrights, directors, dramaturgs, choreographers, or taking Canadian artists (e.g. Ross Manson) to Germany to experience and work in an international context.
The program department of the Goethe-Institut Toronto organizes a broad range of events and supports projects in the fields of theatre, dance, film, new media, arts, music, literature, and more. Main venues are the in-house multimedia hall (also for rental) as well as many partner locations. Beyond this, the Goethe-Institut advises and liaises between the Canadian and German art scenes. Half of the world's stages are in Germany, Austria and Switzerland. The Institut arranges trips to Germany for Canadian experts and journalists and supports stipends for theatre artists (with a good knowledge of German) for assistantships at German theatres.
Recent theatre programs:
Dramatic reading of Transformation by Ernst Toller at the AGO, directed by Ross Manson, with Jordan Pettle, Waneta Storms et al., original live music by John Gzowski.
Translation and dramatic reading of Fathertongue by Albert Ostermaier (Munich) at the Tarragon Theatre (Studio), directed by Jörg Bochow, with Nigel Shawn Williams, Q&A Jason Sherman with Ostermaier.
Production of The Arabian Night by Roland Schimmelpfennig (Berlin) at The Theatre Centre and SummerWorks 2004, with David Jansen, Michael Healey, Alon Nashman, Maza Mezé et al.
For the University of Toronto conference "Faust in the 21st Century": Peter Stein as presenter; film screenings of The Schaubühne Berlin – Collaborative Theatre; Stein's 24 hours Faust
Video on the Stage: discussion with video artist Torge Möller (Berlin), Daniel Brooks, Michael Levine, Susanna Hood, Ross Manson; workshop with Möller
The Queen of Colours performed in English and German by Erfreuliches Theater Erfurt at the Milk International Children's Festival 2005.
Partners and collaborators include: Art Gallery of Ontario, Canadian Embassy Berlin, Charles Street Video, Equity Showcase, Fettfilm Berlin, International Theatre Institute, Playwrights Guild of Canada, TAPA, Tarragon Theatre, Theatre Asylum, The Theatre Centre, Volcano Theatre, University of Alberta, University of Toronto, University of Windsor.
Web resources:
Dossiers on theatre and dance (www.goethe.de/theatre)
Theatre Library – free drama database (www.goethe.de/theatrelibrary)
Dance in Germany and beyond (www.goethe.de/dance)
Webpage: www.goethe.de/ins/ca/en/sta/tor.html
Last updated 2021-01-08