Gold, Muriel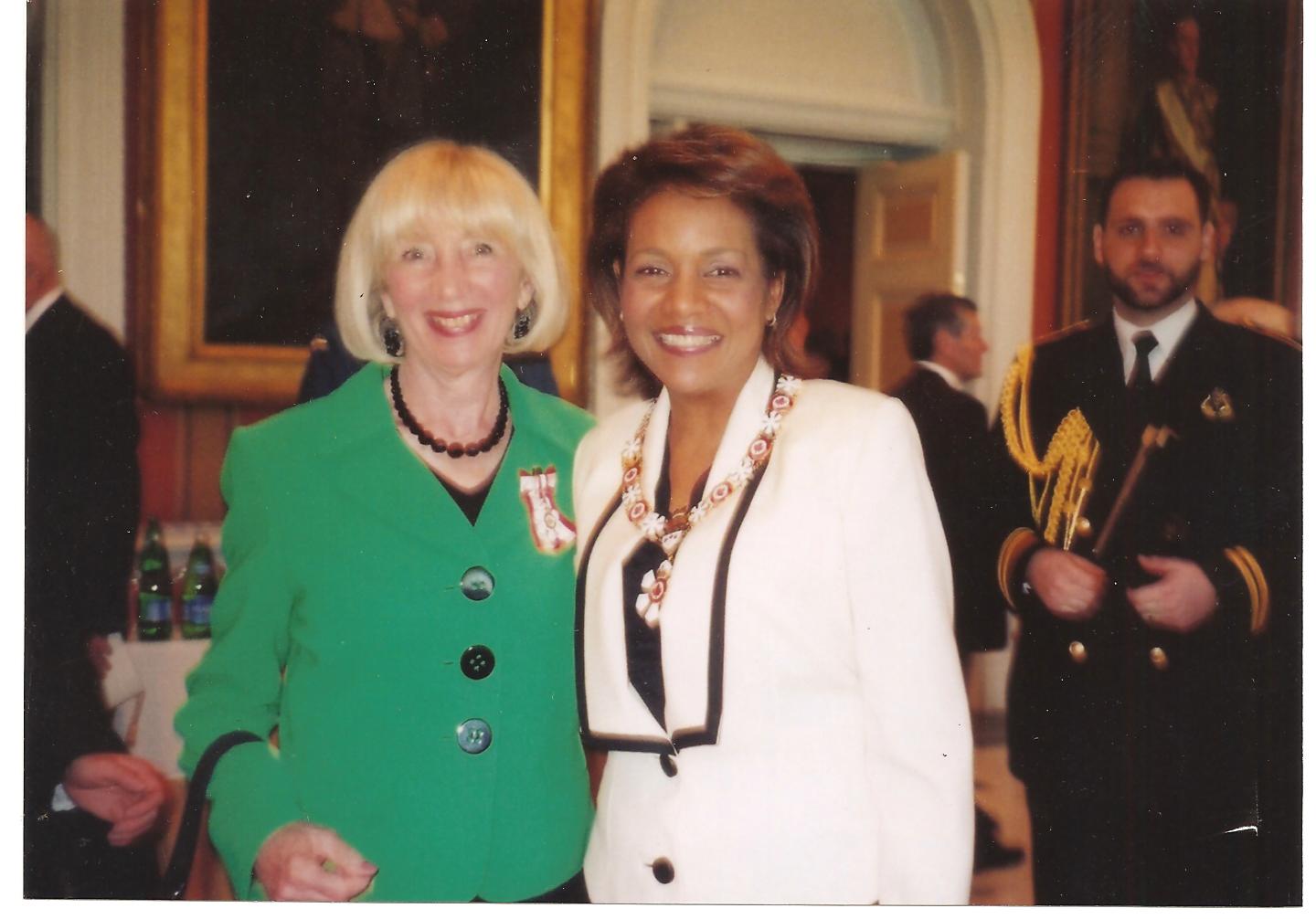 Muriel Gold with former Governor General of Canada, Michaëlle Jean
Director, educator, and actor, born, raised, and based in Montreal Quebec. She has a Ph.D. in Theatre from Concordia University, an M.A. in Developmental Drama from McGill, and a B.A. in English from Sir George Williams.
She was Artistic Director of the Saidye Bronfman Centre at the end of Marion André's controversial tenure. Under her leadership (1972-80) the company not only saw fiscal but also artistic growth. In each five-play season she produced at least one Canadian play, one French- Canadian play in translation, one play dealing with a Jewish theme, and the two others from the European and American repertoire -- a total of 80 plays, and 50 music and dance performances. She brought Québécois theatre to anglo Montrealers (at last) by introducing Michel Tremblay into the company's programming. She also initiated a second stage in the Centre. Subscriptions, which were at 2,000 at the end of André's directorship, rose to 4,000 the following season. She also brought Dora Wasserman's Yiddish Theatre into permanent residency at the house. However, at the end of her time at the SBC, a production of Arnold Wesker's controversial adaptation of The Merchant of Venice (The Merchant) starring José Ferrer was promised to the subscribers (and arguably had an effect on sales) and then was cancelled when the SBC's board decided the venture was too expensive. When she left the company, the Gold-en touch was lost, until the Centre's rebirth as the Segal Centre for Performing Arts.
Muriel Gold directed the premiere of Sam Gesser's Fineman's Dictionary starring Fyvush Finkel in the spring of 2000 at Place des Arts.
From 1980 she has taught and directed at McGill University, Concordia University, and in the Professional Theatre Department at Dawson College.
She is the author of six books, The Fictional Family in Drama, Education and Groupwork (CC Thomas, 1991); Therapy Through Drama: The Fictional Family (CC Thomas, 2000): Drama Across the Curriculum: The Fictional Family in Practice (iUniverse, 2010); Tell Me Why Nights are Lonesome (Shoreline, 2004); A Gift for their Mother: The Saidye Bronfman Centre Theatre - A History. (MIRI Productions, 2007); The Dramatic Legacy of Dorothy Davis and Violet Walters, The Montreal Children's Theatre 1933-2009.
In recognition of her commitment to the advancement of women, the McGill Centre for Research and Teaching on Women established the Muriel Gold Senior Visiting Scholars Fund; and the Business and Professional Women named her the 2010 Woman of the Year. For her lifetime achievement in theatre, Dr. Gold was inducted into the Order of Canada.
Profile by Gaetan Charlebois.
Last updated 2021-01-08