Headlines Theatre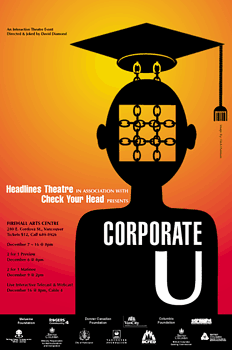 Poster art for Headlines Theatre's Corporate U
Community action theatre company, founded in 1981 in Vancouver British Columbia by a group of politically engaged artists: David Diamond, Nettie Wild, Beth Kaplan, Anne Hungerford, Suzie Payne, and Jay Samwald. David Diamond was Artistic Director from 1984 to 2018. Headlines Theatre facilitated community dialogue with "Theatre for Living" workshops based on the teachings of Brazilian director and educator, Augusto Boal. In 2013, Headlines changed its name to "Theatre for Living." It moved away from the binary language and model of "oppressor/oppressed" and approached community-based cultural work from a systems-based perspective; understanding that a community is a complexly integrated, living organism (website).
Its first production, Buy Buy Vancouver, used agit-prop techniques to provide the perspective of the homeless during a housing crisis. It was subsequently performed at the National All-Sector Conference on Housing in Ottawa in the Ballroom of the Chateau Laurier – at the invitation of Vancouver's Mayor Harcourt. It also resulted in a video documentary, entitled Right to Fight, about organizing for affordable housing, which has been screened across Canada, the U.S., Britain, Holland, West Germany and Cuba.
At the request of specific communities, Headlines developed two more agit-prop works: Under the Gun (about militarism and economic development) and The Enemy Within (about the economic policy of restraint).
Following the theories expressed in Augusto Boal's Theatre of the Oppressed, the focus of Headlines changed from creating theatre for a community to creating with a community. The internationally acclaimed No` Xya` (Our Footprints) was a Headlines' co-production with the Gitksan and Wet'suwet'en Hereditary Chiefs from British Columbia, which combined European and Native perspectives to express the reasons behind the Gitksan and Wet'suwet'en land claim. It toured British Columbia (1987), Canada (1988) and New Zealand (1990).
More recent productions include: Corporate U (2000) on globalization; Don't Say a Word (2003) on bullying: Practicing Democracy (2004) on poverty; Here and Now (2005) on gang violence; Meth (2006) on addiction. Meth toured B.C. in 2007, and Western Canada in 2008. In 2010, Headlines mounted Gaza Monologues, a cooperative project with Ashatar Theatre in Palestine, and Neworld Theatre in Vancouver.
In 2010, Headlines initiated Us and Them (the inquiry), a series of twenty-three participatory theatre events in Vancouver, which enacted the ways in which social structures create divisions between "oppressors" and "oppressed" as indicators of human behaviour, and to explore ways in which a new balance or eqilibrium may be achieved. In 2011, it was developed into an ensemble performance piece.
David Diamond has directed/co-written 600 theatre projects for Headlines Theatre on a variety of issues including racism, gender roles, violence, self-esteem, First Nations' Residential Schools, and language reclamation. Practicing Democracy was honoured with two Jessie Richardson Awards including Outstanding Production. It resulted in over 90 policy recommendations to Vancouver City Council regarding poverty issues in Vancouver.
Headlines Theatre used interactive sessions called "Power Play" and "Forum Theatre" in its workshops, working through primarily non-verbal theatre games and exercises to build trust and understanding within the workshop group.
In 2018, after 37 years of productions, Diamond devolved the Company and stopped doing large productions. He now offers to facilitate community projects, workshops, and training under the name of "Theatre for Living."
Further reading: David Diamond. "In This Moment: The Evolution of 'Theatre for a Living,'" Canadian Theatre Review 117 (2004): 10-13.
David Diamond. Theatre for Living: The Art and Science of Community-Based Dialogue. Victoria, BC: Trafford, 2007.
Website: www.headlinestheatre.com
Last updated 2021-01-24