Asselin, Jean
Actor/director/teacher, Jean Asselin was born in Laval, Quebec in 1948. After having studied in Montreal, Paris (with Etienne Decroux), London and Prague, he returned to Montreal and founded Omnibus in 1978, a theatre company which blends traditional theatrical styles with highly focused aesthetic and stringent dance/movement parameters.
He and his Company have produced some of Canada's most ambitious and stylistically difficult works. Asselin's visual lucidity is a precursor to the more multimedia creations of Gilles Maheu's Carbone 14 and Robert Lepage's Théâtre Repère.
In February, 2000, Jean Asselin directed Michael Mackenzie's Farce (Le Making ov) and, in May, 2000, his own Beautés divines.
Profile by Gaetan Charlebois. Additional information provided by Kevin Collins.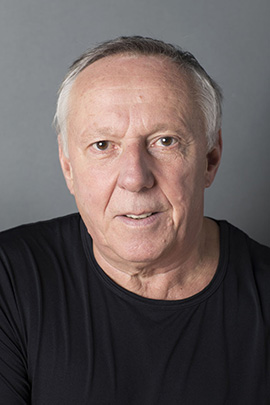 Jean Asselin. Photo by Catherine Asselin-Boulanger, 2017.
Last updated 2020-02-21