MacDonald, Florence Gibson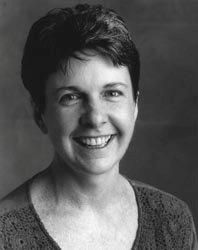 Florence Gibson
Playwright, born in Montreal Quebec, raised in Cobourg Ontario, and currently living in Toronto. She has an undergraduate degree in biochemistry and genetics and an M.D. She practised medicine in Inuvik, Hong Kong, and East Africa, and upon returning to Canada began to write full time.
Her works typically have an historical focus, with a strong intellectual and moral content, and dense, poetic language. Belle (Factory Theatre, 2000) is set during the reconstruction period following the American Civil War. Two former slaves, Belle and her husband Bowlyn, leave Georgia with their baby boy to find to make a better life in the north. Although Bowlyn is corrupted by unscrupulous political opportunists, Belle tries to hold her family and her hopes together while working as a domestic servant. Belle won a Chalmers Award, and has since played at the National Arts Centre in Ottawa (2002), and in London, and New York.
Home is My Road (Factory Theatre, 2003) examines the role of international adoption in the cultural genocide of the Roma people of Europe through the journeys of two Canadian women to Romania in 1991 – one trying to adopt a baby, and the other searching for her birth mother. It won the Carol Bolt Canadian Authors Association National Award for drama in 2004
In 2007 Florence Gibson co-created i think i can as a wordless tap dance with choreographer Shawn Byfield for the Lorraine Kimsa Theatre for Young People (now Young People's Theatre.
Missing, which won the Herman Voaden National Playwrights award in 2005, premiered at the Factory Theatre in 2009 (dir. David Ferry). This metaphysical mystery story features a woman detective trying to resolve the contradictions in the case of a missing woman in a small Ontario town, and her own personal and marital contradictions. It was published by Playwrights Canada Press in 2010.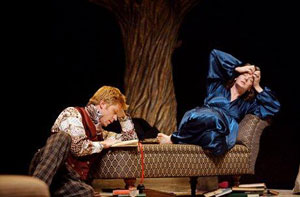 How Do I Love Thee?
playRites
Festival 2010. Jan Alexandra Smith as Elizabeth Barrett Browning, Geoffrey Pounsett as Robert Browning
Photo by Trudie Lee
How Do I Love Thee? (playRites 2010, dir. Kate Newby) revisits the iconic love story of Robert Browning and Elizabeth Barrett from a medical perspective. It speculates that although Elizabeth was a woman of formidable learning and intellect, her physical and psychological infirmities were drug-induced, and her poetry owed much to the heightened sense of reality she experienced by taking opium and morphine – at a tragic cost to her relationship with Browning and his creativity after their marriage. It was remounted at Berkeley Street Theatre, Toronto in February 2015 (dir. Ken Gass); and published by Playwrights Canada Press in 2013.
She has also written for CBC radio.
Profile by Anne Nothof, Athabasca University
Last updated 2021-04-08