Nelson, Esther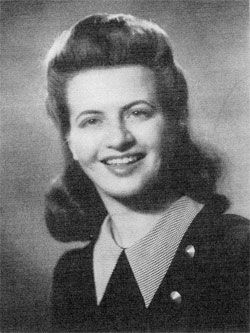 Esther Nelson
A builder of Alberta theatre, born in Ponoka Alberta June 13, 1922, and trained in the drama field at the Banff School of Fine Arts (now the Banff Centre for the Arts) from 1943-45. She was a member of the Everyman Theatre on its legendary western Canadian tour in 1946-47 (The Importance of Being Earnest by Oscar Wilde and The Last Caveman by Elsie Park Gowan), and again in 1948-49 as Sydney Risk carried performance to the communities of Vancouver as part of his idealistic dream of creating a professional theatre in Western Canada.
Her theatre education continued at the Seattle Repertory Playhouse where she accepted scholarships in 1945-46 and 1947-48, and where she came to admire the model of semi-professional theatre taught and lived by Burton and Florence James. Theirs was a courageous multi-racial, multi-ethnic and avowedly socialist-leaning company in the changing times of post-war west coast America. They trained professional theatre personnel in every facet of their business, who then carved out show business careers across North America for the next fifty years.
With this background, Esther accepted the position of Provincial Drama Specialist at the Department of Extension of the University of Alberta. From 1949 to 1962 she travelled to every community of the province (and some in BC) that sought assistance in developing community theatre. From the smallest school to the most experienced city groups, her work was to teach classes and workshops; to assist inexperienced directors as well as to direct leaderless productions herself; to advise and give material support to all manner of drama groups; and to adjudicate a multitude of drama festivals – from those of small schools to the large final festivals conducted across the western provinces. She was tireless in her active support for the groups and individuals who wrote, directed and performed plays within their communities and at the inter-group festivals that opened windows of opportunity for drama within Alberta in a pre-internet world. Her goal was simply to promote every form of Alberta theatre.
During her years with the Department of Extension, Esther was an instructor in acting and directing at the Banff School of Fine Arts. She directed at least three one-act plays each summer at Banff, choosing Canadian plays when possible (including a revival of Stampede by Gwen Pharis Ringwood and Teach Me How to Cry by Patricia Joudry.
Nelson directed opera as well as drama: Martha and Hansel and Gretel at the Banff School of Fine Arts; The Mikado in Dawson Creek; La Traviata and Faust for the Alberta Opera Company; Amahl and the Night Visitors for the Calgary Theatre Singers, and The Medium for the Calgary Opera Workshop.
She contributed her drive to the reanimation of the Alberta Drama League in the early 1950s in order to bring Alberta theatre groups into the Dominion Drama Festival. Her tireless dedication was recognized by the DDF with the award of the Canadian Drama Award for contributions to Canadian Theatre in 1955.
Esther Nelson died in Calgary on June 12, 2018 at the age of 95.
Profile by Nancy Vose.
Last updated 2021-07-07