Pennell, Nicholas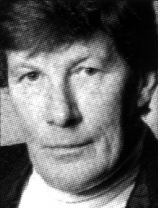 Nicholas Pennell
Actor born in Brixham, Devon, England November 19, 1938; died in Stratford Ontario February 22, 1995 of cancer at the age of 56. He was one of the Stratford Festival's lead actors for twenty-three seasons, performing in seventy-five plays.
Nicholas Pennell attended the Royal Academy of Dramatic Art in London, and acted on stage, television, and in film, before coming to Canada in 1972, including the BBC 26-part adaptation of John Galsworthy's The Forsyte Saga.
He first performed with the Festival in 1972 in As You Like It and went on to play leads in Hamlet, The Tempest, The Importance of Being Earnest, A Midsummer's Night Dream, Measure for Measure and the adaptation of Robertson Davies' World of Wonders by Elliott Hayes (1992). He also played, Gayev in The Cherry Orchard and John Worthing in The Importance of Being Earnest. In 1980 he played Leonard Woolf opposite Maggie Smith as Virginia Woolf in the world premiere of Edna O'Brien's Virginia.
Elsewhere, Pennell performed at the Bayview Playhouse in Toronto and in the United States. He toured America in two of his own productions, Rogues and Vagabonds and This Fair Child of Mine (1977), and returned to the West End in London with Virginia (Haymarket Theatre, 1981), with Maggie Smith.
Nicholas Pennell's performances were marked by an elegant physicality (his Ariel in the 1975 touring production of The Tempest was balletic, his Hamlet on the tour acrobatic), a mellifluous voice and a quicksilver wit.
Two days before his death, at the beginning of rehearsals for the 1995 season, he wrote a moving farewell to the Stratford Company: "My dearest company, stage management and crew: I wanted to write something to you on the occasion of your first day, from one who, for the first time in 24 years, cannot be there. Each year the miracle renews: we band of artists are released into the adventure again; to renew the act of faith in the recreation of the spirit of imagination. For it is that unique gift that is ours (our joy and our sorrow too): to delve into the stuff of our lives, and dig up with absolute fidelity and accuracy our happiness, our ecstasy, our pain, our misery, our laughter, our ironies, our intimacies passionate and unidentifiable - hot or icy cold; all unguarded and uncensored, free and truthful - and, through the medium of the text, allow the audience to receive the transubstantiation of our truth into their truth, their reality.
"To hold, as 'twere, the mirror up to nature.
"For that is what we must do as artists: demonstrate the shared wholeness of the human condition to our audiences; in order that together we may arrive where we started from and know the place for the first time.
"That demands from us, my hearts, courage, endurance, energy and commitment of an impossibly high order. But look around this rehearsal hall and take heart. A room more full of talent, generosity, wit, speed, laughter, thievery, meanness, ambition, chutzpah and Bill Hutt is impossible to imagine - unless Monette has stepped out for a cigarette!
"My love, my passion, my bliss and my joy, and my pea-green envy are, and always will be, with every one of you.
"Now, take Bill's hand, he's a stranger in Paradise! What are you waiting for? Fly, my darlings!
"I love you,
"Nick"
Source: Stratford Festival souvenir program, 1995
Profile by Gaetan Charlebois
Last updated 2020-04-28