Pitre, Louise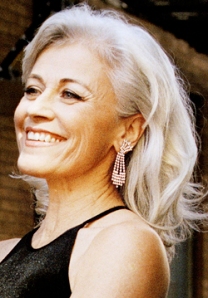 Louise Pitre
Ontario-based singer/actor born January 1, 1957 in Smooth Rock Falls. Louise Pitre studied at the University of Western Ontario (BMus '79 and DMus '06).
She has starred in several large-scale musical theatre productions across Canada, including as Fantine in the bilingual production of Les Misérables in Montreal. She has also played in other productions of this particular work including in Toronto and Paris. She sang on the French cast album.
Louise Pitre has played the Winter Garden, National Arts Centre and Theatre Calgary, among venues, in works as diverse as Jacques Brel is Alive and Well and Living in Paris, Piaf, Tartuffe, Who's Afraid of Virginia Woolf?, Blood Brothers, The Roar of the Greasepaint, the Smell of the Crowd, and as a snake in The Little Prince (Theatre Calgary, 2016).
In summer, 2000, she appeared in the Toronto production of the hit ABBA musical Mamma Mia!. Joel Greenberg of Aisle Say wrote, "Her performance is so easy, so relaxed and so much fun, that you cannot wait for her next entrance." Christopher Hoile, of Stage Door called her "superb." In October, 2001, she performed Mamma Mia! on Broadway to positive critical reviews and audience response.
She also performs in concert and has released a record, entitled Love Letter.
In 2021, when the Covid-19 pandemic closed theatres across the country and around the world, Louise Pitre mounted an autobiographical on-line show, Stirred But Not Shaken.
She has won four Dora Mavor Moore Awards (Blood Brothers, Piaf, and Mamma Mia! 2001). In 2001, she won the award for best actress in a musical in the first annual National Broadway Theatre Awards.
She is married to actor Joe Matheson.
Website: https://Louisepitre.com
Sources: Ben Brantley. "OK Mamma, it's New York's turn," The New York Times/The Gazette (Montreal), October 21, 2001.
Nathalie Petrowski. "La vie sur Broadway," La Presse, Montreal, November 24, 2001.
Additional information provided by Christopher Hoile and André Lefort.
Last updated 2021-07-29