Princess of Wales Theatre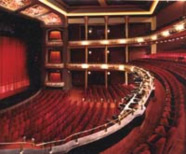 Opulent theatre venue in Toronto, Ontario opened in May, 1993 and built for owner/producers David Mirvish and Ed Mirvish. The first work staged there was the Mirvish/Cameron Macintosh production of the Boublil/Schonberg mega-musical Miss Saigon.
The house was the first privately-financed theatre to be built in Toronto since its sister house, the Royal Alexandra Theatre. It seats 2000 but was designed, by Peter Smith, to retain intimacy while providing facilities to mount large-scale works.
It was decorated by artist Frank Stella, his murals covering 10,000 square feet of the venue including the dome, the proscenium arch and the rear outside wall of the building; Stella also created the decoration for the façades, balconies, boxes and end-pieces for the seat-rows.
In 2000, the mega-production, The Lion King, moved into the house. In 2006, it hosted an extravagant musical adaptation of Lord of the Rings, with only partial critical success. Les Miz returned for the 2013/14 season to celebrate the 50th anniversary of Mirvish productions in Toronto. In 2013, David Mirvish announced that he planed to demolish the Princess of Wales theatre to build a condominium complex. However, the theatre survived, and in 2018, it celebrated its 25th anniversary. It was closed during the Covid-19 pandemic in 2020-21, but reopened to a limited, distance audience in August 2021 with London's Donmar Warehouse production of Blindness by Simon Stephens, a sound installation about a pandemic which renders whole populations blind. British actor, Juliet Stevenson was the storyteller.
Website: www.mirvish.com/theatres/princessofwalestheatre
Profile by Gaetan Charlebois. Information provided by Lindy Cooksey.
Last updated 2021-08-20