Vancouver Moving Theatre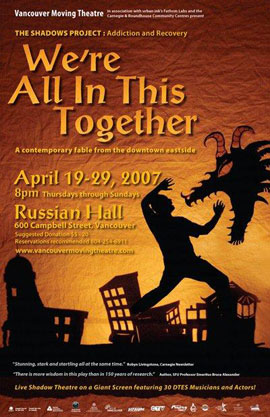 Founded by partners Savannah Walling and Terry Hunter in 1983, and based in Vancouver British Columbia, Vancouver Moving Theatre (VMT) has presented thousands of intercultural performances, workshops and lectures to over half a million audience members in North America, Europe, Asia and Australia.
VMT has collaborated with performing and visual artists of many genres, techniques and traditions to create original repertoire, and to produce education programs, community residencies and festivals. It blends Asian practices of dance, mask, and music with European mumming and Commedia Dell'Art.
Production include the audience interactive Drum Mother's Gifts (1984); the non-verbal street drama Samarambi: Pounding of the Heart (1986); Runners' Tale; Blood Music; The Good Person of Setzuan (with Touchstone Theatre and Ruby Slippers Theatre); Tales from the Ramayana (with Mandala Arts); and Crime and Punishment (with Neworld Theatre and PuSH International Performing Arts Festival).
Over the last ten years VMT has focused on interdisciplinary arts and community building projects in Vancouver's Downtown Eastside – including In the Heart of a City: The Downtown Eastside Community Play (with Carnegie Centre); the giant screen shadow play We're All In This Together: The Shadows Project – Addiction and Recovery; the tragic-comic A Downtown Eastside Romeo and Juliet; the Strathcona Artist at Home Festival (1999 – 2004); and the Downtown Eastside Heart of the City Festival (2004 -)
In 2009, VMT and Jumblies Theatre, in cooperation with the Community Arts Council of Vancouver initiated the Downtown Eastside Arts4All Institute, a intensive creative laboratory and practicum for art that engages and celebrates community. In development since 2010, The Big House Project evolved through a series of invitational theatrical feasts hosted by VMT in community partnerships: City of Vancouver Dialogues Project, Oppenheimer Park, Downtown Eastside Neighbourhood House, Vancouver Native Housing, Dr. Sun Yat-Sen Classical Chinese Garden and Jumblies Theatre (Toronto), the Aboriginal Front Door, the Association of United Ukrainian Canadians, Carnegie Community Centre and Downtown Centre for the Arts. The Big House Project culminated in May 10, 2015 with a closing feast (website).
In 2015, Vancouver Moving Theatre, Jumblies Theatre, and Aanmitaagzi from Nipissing First Nation in Ontario instigated and coordinated Train of Thought, a seven-week trans-Canada journey of reconciliation and collaboration with artists in community theatres in twenty locations across the country.
Terry Hunter and Savannah Walling have received several awards for their work, including the 2008 British Columbia Achievement Award, City of Vancouver's 2008 Cultural Harmony Award, and the 2009 Mayor's Award .
Reading: From the Heart of a City: Community-engaged Theatre and Music Productions from Vancouver's Downtown Eastside, 2002-2013. eds. Savannah Walling and Terry Hunter. Vancouver: Vancouver Moving Theatre, 2015.
Website: www.vancouvermovingtheatre.com
Last updated 2019-10-22