Vermeulen, Benôit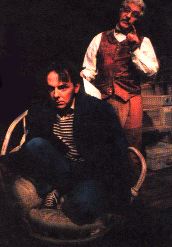 Quebec-based actor/director/producer, born in 1964, and one of the most striking character actors of his generation.
He has been noticed and employed by many of the province's top directors and playwrights including Claude Poissant (Volte-face, Rock pour un faut bourdon),Serge Denoncourt (Il Campielo), Michel Monty (Accidents de parcours) and Jean-Luc Denis (Voilà ce qui s'passe à Orangeville, Gaspard). He also was featured as the troubled boy in the Théâtre Populaire du Québec production of Equus. In February, 2000, he appeared in the premiere of Claude Poissant's Les enfants d'Irène.
Benôit Vermeulen's performances are marked by a strong presence and emotional focus. There are few actors who can match him in terms of watchability.
In 1989, he formed the young people's company Théâtre Le Clou (with Monique Gosselin and Sylvain Scott), a company aimed at reaching an older (14-17) youth audience. They presented Les Trains by Olivier Choiniére in April, 1999. In May, 2001, Vermeulen directed the multi-authored Les Zurbains 2001, a coproduction of Le Clou and Nouvelle Compagnie Théâtrale / Théâtre Denise-Pelletier. In 2006, he directed a highly acclaimed production of Assoiffés by Wajdi Mouawad in a co-production with Théâtre d'Aujourd'hui.
In 1997, Vermeulen received the John Hirsch Award for directing from the Canada Council.
From 2007 to 2012 he was an artistic associate for French theatre at the National Arts Centre, responsible for theatre for young people.
Profile by Gaetan Charlebois. Updated by Anne Nothof.
Last updated 2021-12-13