Grittani, Vince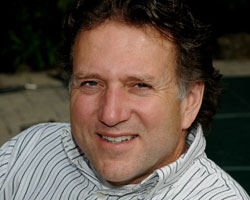 Vince Grittani
Playwright, producer and director, born in Toronto Ontario in 1954. He received his early childhood musical training while attending St. Michael's Choir School, and was first introduced to theatre while attending summer workshops in 1967 and 1968 at Ontario's answer to the Banff Centre for the Arts, the now defunct Elliott Centre for Continuing Education.
After a brief stay in the University of Windsor's Theatre Programme, he decided that acting wasn't his forte and went on to study sociology at McMaster University, followed by a teaching stint in India. On returning to Toronto, he worked as an advertising copywriter. In 1985, his first major work Yuppies! The Musical (music by Bruce Fowler and Luke Koyle) was independently produced and ran for ten months in Toronto, starring Ted Simonett, Audrey Karin, Hal Eisen and then Much Music VJ Catherine McClenahan. This was followed in 1987 by a three-month run of his anti-yuppie spoof Quiche My What! (music by Stephen Woodjets) starring Theresa Tova, Denise Pigeon, Barbara Wheldon and Stewart Code. He directed both productions.
During the 90's Vince moved to television becoming a writer/producer and host of Cottage Life Television, then as a regular on Real Life with Erica Ehm on the Life Network for two years. He also wrote for a number of other dramatic, lifestyle and animation including Sweating Bullets, Care Bears, Beetlejuice, Neverending Story, Wimzie's House, Family Passions, and Tales from the Cryptkeeper. In 2004, he created, produced, and hosted his own lifestyle series The Weekend Guy, which still has an international audience.
In 2001, Vince returned to writing for theatre when commissioned to write his summer musical Scenes From My Dock for the Straw Hat Players' production honouring the 100th anniversary of the Gravenhurst Opera House. The musical has since seen productions in various summer theatres.
In 2002, he founded the Muskoka Theatre Project, and for eight seasons in the role of artistic director and producer, he brought professional theatre back to the region. Over time he attracted to the company some of Canada's top talent including Marek Norman, Barbara Barsky, Patricia Vanstone, Denise Fergusson, Dave Campbell and Geoffrey Whynot. During this period Vince also premiered his one woman play Quiet! I'm Talking, which went on to see several additional productions around the province including the 2006 staging by Theatre Aquarius in their Studio Theatre, followed by a run at Toronto's Diesel Playhouse.
He also staged for the first time three new musicals which he wrote with composer Rosalind Mills: Wedding Whine (2006), Wake Me When It's Over!, starring Sweeney McArthur and Suzette Araujo (2008), and his golf musical Scenes From the 19th Hole! (2007 and 2009), which toured England and the US in 2011.
In 2008, Vince founded the Rosseau Culture and Arts Project (R'CAP), an arts and culture organization that fosters artistic and cultural activity in Northern Ontario. Under his direction as Executive/Programme Director, RCAP manages The Muskoka Theatre Project, and founded The Muskoka Independent RCAP HAT LOGO with printFilm Festival, The TWG Gallery plus The Academy of Arts and Practical Science and "Kinderfest". In 2014 and 2015, he created and lead "Destination Rosseau" an integrated festival of art, theatre, music, and film. Vince has also written The Weekend Guy – A Survival Guide (Key Porter Books, 2002).
Last updated 2019-07-09