Whynot, Geoffrey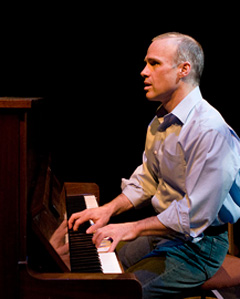 Geoffrey Whynot in Tuesdays with Morrie, Globe Theatre.
Actor, director, teacher, who has worked in Canadian theatre across the country for thirty-five years, including the Charlottetown Festival, Shaw Festival, and Stratford Festival. He has also produced original Canadian plays with his company Shaking Ground Productions and with that company, he toured his one-man show to Poland and Ukraine as a guest of the Canadian government. In 2009, he appeared in Tuesdays with Morrie at the Globe Theatre.
Since 2000, he has also been directing. Credits include: Over the River and Through the Woods, Cinderella, Beauty and the Beast, Twelfth Night for the Globe Theatre; Forever Plaid, Nunsense, Pirates of Penzance for Weathervane Playhouse; Welcome to Eden, Population: 2 at the Toronto Fringe (2006); and Ebenezer Scrooge: A Carol for Christmas for the Niagara Centre for the Arts (2009), which he also adapted from the Dickensí novel. He was Interim Artistic Director of the Globe Theatre for the 2019-20 season.
He has also acted for television, including the popular show, Corner Gas.
Source: http://playsthatwork.com/company/meet-the-toronto-cast
Last updated 2022-03-08