de Vasconcelos, Paula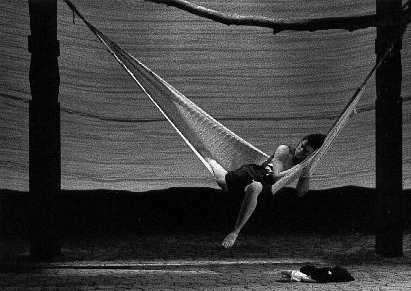 Geneviève Martin in Paula de Vasconcelos'
Pigeons International
production of Sam Shepard's
Cruising Paradise
(photo: Louis Taillefer)
Quebec-based director and co-founder of Pigeons International. She was born in Portugal, and was educated at Concordia University and the Université de Québec à Montréal before founding the company to explore multidisciplinary theatre via masterpieces of the modern and classical repertory.
She has directed most of the company's works including Perdu dans les coquelicots/Lost in the Poppies, Savage/Love, Cruising Paradise and The Making of de Macbeth. Les Bachantes appeared in the 1999 Festival de Théâtre des Amériques (now Festival TransAmériques).
In March 2014, she was choreographer and director for L'Architecture de la paix, with text by Evelyne de la Chenelière at Espace Go.
Her style is marked by a special attention to movement/dance and a playfully intelligent approach to dramatic text. She now spends more time with work that is more purely dance.
She lives in Montreal with her partner, actor/director and Pigeons co-founder Paul-Antoine Taillefer, and their daughter.
Profile by Gaetan Charlebois.
Last updated 2020-06-26