Albert, Lyle Victor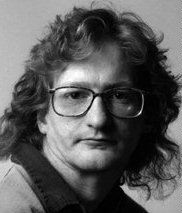 Lyle Victor Albert
Playwright, born into a French/Irish Catholic family in 1960, the youngest of eight children. He was raised on a farm near Bonnyville Alberta, and attended Grant MacEwan College in Edmonton, where he obtained a diploma in Theatre Production. He also studied English and Drama at the University of Alberta.
He began writing for the theatre in 1980 and has been produced across Canada, in the US, Europe and Australia. He has been writer-in-residence at Northern Light Theatre and Theatre Network.
He also writes for film and video.
He has twice won the Alberta Culture Playwriting Award (1982 and 1986), and a Sterling Award (1996).
His plays include three monologues inspired by his experience of cerebral palsy: Jumpin' Jack (One Yellow Rabbit 2002); Objects in the Mirror (Saskatoon Fringe Festival 1997); Scraping the Surface (Vancouver Men's Fest 1995). Other plays are Waves, an expose of sexual misdemeanours in a "health club" (Alberta Theatre Projects, 1989, dir. Cathy Allison); Wheelie (Chinook Theatre 1988); Ba Ha Ha, an exploration of the significance of Bauhaus architecture (Edmonton Fringe Festival, 1987); The Big Sell about the liquidation of Fort MacMurray after the oil boom goes bust in 2006 (Theatre Network, 1986, dir. Stephen Heatley); White on White, about the presence of the Klu Klux Klan in Alberta (Theatre Network, 1985, dir. Raymond Storey); Cut!, which animates the characters cut from such classics as Hamlet and Oedipus Rex (Edmonton Fringe Festival 1985); The Prairie Church of Buster Galloway, which probes the morality of a group of Alberta farmers (Northern Light Theatre, 1983, Jace van der Veen).
Published plays include: The Prairie Church of Buster Galloway Playwrights Union of Canada, 1987; Cut!: Five From the Fringe NeWest Press, 1986; Scraping the Surface: Three Plays by Lyle Victor Albert, NeWest Press, 2000.
Albert's most popular play, Scraping the Surface is a monologue in which the actor becomes the playwright, becomes the basic guy. It ironically explores the trials and tribulations of a "jumpy" young man with cerebral palsy, his evasions, disappointments, and triumphs, including shaving with a straight razor. For the past ten years, he has toured this play throughout North America and Europe, including the Kennedy Centre in Washington D.C.
The Lyle Victor Albert Centre in Bonnyville was named in his honour in 1982, and functioned as an arts centre for theatre, music, and dance until it was demolished in 2019 to make way for a new high school gym.
Profile by Anne Nothof, Athabasca University
Last updated 2019-11-14