Beaulieu, Victor-Lévy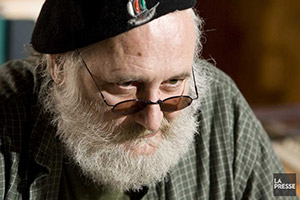 Victor-Lévy Beaulieu. Photo by La Press 23 July 2011.
Prolific Quebec-based essayist, novelist, and playwright. He was born Lévy Beaulieu on September 2, 1945 in Saint-Paul-de-la Croix, and took the name Victor as a tribute to Victor Hugo. His monumental essay on Hugo won the Larousse-Hachette prize.
Beaulieu's fourteen plays show a concern for the passing of Quebec values and history, and are written in joual following the example of Michel Tremblay. They are typically satiric; for example, La Tete de Monsieur Ferron (Théâtre d'Aujourd'hui, 1979). His most recent play, Les menteries d'un conteux de basse-cour (2011), is a monologue in which the speaker functions as his alter ego, recounting his early family life (with ten siblings) in Saint-Paul-de-la-Croix.
Since 1969, Beaulieu has written seventy novels, some of which have been adapted for television series ("L'Heritage" (1987-89). He also managed a publishing firm, VLB, which published the first works of, among others, Michel Garneau and Marie Laberge.
No stranger to controversy, when his work, La Maison Cassée (which also played the Café de la Place des Arts), was premiered, he announced that it was part of his battle to take Quebec theatre back from the "tapettes" (fairies, homosexuals). He also settled a lawsuit for libel against him stemming from his accusations that another television series had stolen ideas from his own Montréal, PQ. In 2008, he threatened to burn his published works in protest against bilingualism.
In 1994, Beaulieu founded the Festival de théâtre de par chez nous, at the Caveau-théâtre de Trois-Pistoles (where many of his works have premiered) to showcase the works of local artists. In 1999, for reasons of ill health, he decided to sell the Trois-Pistoles cultural complex he had created.
He has received many awards for his works, including a Governor General's Award for his novel Don Quichotte de la démanche in 1975; and l'Ordre des arts et des lettres du Québec.
Sources: Robert Chartrand. "L'écrivain aux initiales," Le Devoir, Montreal, 24 Nov 2001.
Profile by Gaetan Charlebois
Last updated 2020-03-26